On March 20th 2018, Ms. Amgalan Tsedendamba, the Head of Ulaanbaatar State University Japanese Faculty of Oriental Department Studies, Mongolia, visited Hiroshima University's Higashi-Hiroshima Campus and met with HU President Mitsuo Ochi.
During the meeting, opinions were exchanged about furthering inter-university cooperation between the two universities.
Ulaanbaatar State University has an inter-university exchange agreement with HU. It is expected that collaboration between the two universities will continue to develop.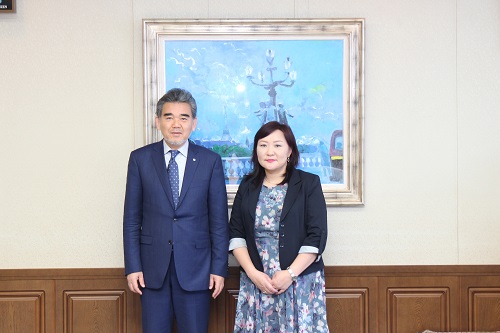 Commemorative Photo by President Mitsuo Ochi (left) and Ms. Amgalan Tsedendamba (right)
[Inquiries]
International Exchange Group, Hiroshima University
TEL: 082-424-6042