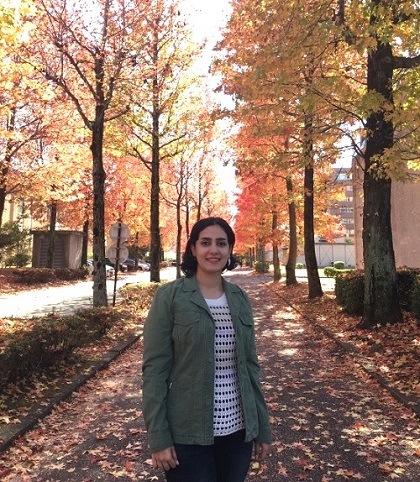 Ms. Nassr Elahe who was awarded the INU Henry Fong Award
Ms. Nassr Elahe, a first grade student of the School of Integrated Arts and Sciences, Department of Integrated Global Studies (IGS), was awarded the International Network of Universities (INU) Henry Fong Award in October. This award was given to one student from a pool of applicants who participated in the HU-sponsored INU Student Seminar from August 4th to 12th, 2018 and submitted essay on Global Citizenship. As the fourth HU recipient of this award following Mr. Qixun Li (Graduate School of Integrated Arts and Sciences), Ms. Elahe will receive a full-tuition scholarship and 2,000 dollars for living expenses to study for 1 semester at any INU member university. Ms. Elahe will study at Universita Cattolica del Sacro Cuore (Italy) from January to May 2019.
The INU Student Seminar is held every year in August (about 90 participants from 10 universities in 9 countries attended in 2018) with the aim of providing an opportunity for students from INU member universities overseas to gather in Hiroshima and think about and discuss global citizenship through discussions with prominent guest speakers, workshops, and more. In 2019, the 14th Seminar is planned to be held from August 4th to 12th.
Comment from Ms. Nassr Elahe
Joining INU program was indeed a priceless experience I have had through my school life. It benefited me in several different ways. For instance, it granted me the opportunity to enrich my life by interacting with scholars and students from different countries. Although it was not a very long program I will have to admit I learnt many valuable things related to global peace and citizenship.
This program gave me the chance to apply for Henry Fong Award and I believe I was very fortunate for I received this precious grant. It will enable me to broaden my academic scope that will help me achieve my ultimate goal which is becoming a screenwriter and a women's rights activist.
I'd like to express my special thanks to all INU program organizers as well as its staff.
[Inquiries]
International Exchange Group, Hiroshima University
Tel: 082-424-4581/4346
E-mail: kokusai-ryugaku *office.hiroshima-u.ac.jp (Please replace * with@)