On May 2nd 2019, the opening ceremony for Hiroshima University Münster Center, the 19th overseas base of Hiroshima University (HU), was held in University of Münster in Germany with attendance of President Mitsuo Ochi and Executive Vice President Toshiyuki Sato. The ceremony was also attended by Prof. Dr. Michael Quante, Vice-Rector of University of Münster.
HU and University of Münster signed an inter-university exchange agreement in February 2017 through which the two universities have deepened academic exchange since then. In addition, Münster is the place where "The Peace of Westphalia" was signed to end the "Thirty Years' War", and today it is known as an international city of peace just like the City of Hiroshima.
With this new center, we hope that exchange between the two universities and the two countries will flourish even further.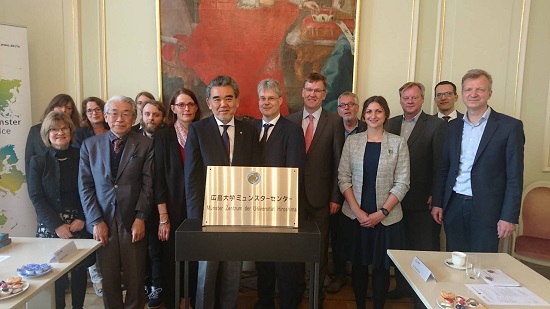 Commemorative photo at the opening ceremony
[Inquiries]
International Exchange Group, Hiroshima University
TEL: 082-424-6042