On April 27th 2019, the first Japanese Speech Contest was held at Ulaanbaatar State University (USU) in Mongolia, where the Hiroshima University Mongolia Research Center is located.
The contest was held jointly by the Hiroshima University Mongolia Research Center and USU with the backing of the Embassy of Japan in Mongolia and the Japan Society for the Promotion of Science Beijing Representative Office. At the contest, 14 students from 7 universities around Ulaanbaatar gave their speeches on the theme of "What do you know about Hiroshima?". There were about 50 people in the audience including students learning Japanese and Japanese teachers.
At the beginning of the contest, USU President Sanjaa Baigalsaikhan gave his opening address. After that, HU President Mitsuo Ochi's video message was also shown.
Following the opening addresses, 14 participants made speeches in Japanese, and after careful consideration Ms. Mungunsan Oyunchimeg from National University of Mongolia was awarded the first prize.
The contest was concluded with the comments from Dr. Serjav Balsan, a guest judge of the contest and the Leading Research Fellow of Mongolian Academy of Sciences. The audience listened intently until the very end of the contest.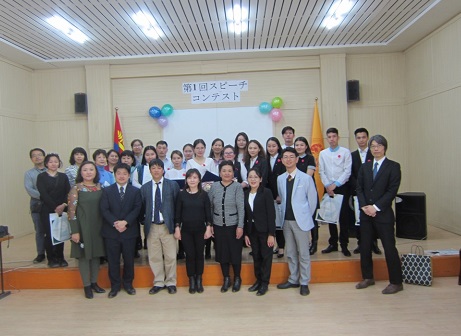 Commemorative Photo after the Contest
[Inquiries]
International Exchange Group, Hiroshima University
TEL: 082-424-6042