On August 5th 2019, 40 Egyptian students shouted for peace in Japanese on the theme of "Peace" or "Hiroshima" at the Central Library of the Cairo University (CU), Egypt. CU is one of the inter-university exchange agreement partners of Hiroshima University (HU).
This event was held also as the preliminary selection of the Japanese Speech Contest scheduled one month later. After severe reviewing, 14 participants were selected to proceed to the final competition, where the winner of which would be awarded an invitation to attend "Japanese Language and Culture Special Program" (a short-term study program offered by HU).
Moreover, this event was featured on a Japanese TV program "NHK News 7" on August 6th.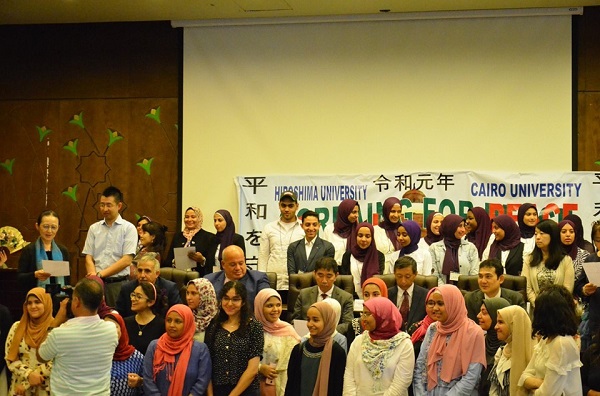 Participants of the event
[Inquiries]
International Exchange Group, Hiroshima University
Tel: 082-424-6042