From July 26th through August 7th 2019, the Summer Program for Peace and Law was held at Hiroshima University (HU) in coordination with the University of São Paulo (USP) in Brazil, one of our academic exchange agreement partners. Led by Prof. Masato Ninomiya (HU's visiting professor from the Faculty of Law at USP) and two other supervisors, five law students from USP participated.
The main theme of the program was "Peace and Law," and it included 3 subjects; (1) Law Lectures, (2) Japanese Language and Culture Experience, and (3) Peace Learning. In addition to attending lectures held by the teaching staff of the School of Law at HU, for (1) students visited a district court where they attended a trial as an audience. For (2), not only did they attend Japanese language and calligraphy (shodo) classes, but they also went on a sake brewery tour. Finally, for (3), they were able to deepen their understanding of the tragedy caused by the atomic bomb by attending the Hiroshima Peace Memorial Ceremony on August 6th, visiting the Atomic Bomb Dome (Genbaku Dome) and the Hiroshima Peace Memorial Museum, in addition to listening to experiences from atomic bomb survivors.
The participants learned much about the importance of peace as well as about Japanese society and culture through this program. We expect that they will convey their experiences in Hiroshima to many people after returning home to Brazil. We also hope that, as friends of Japan, they will help to deepen the bonds between the two countries.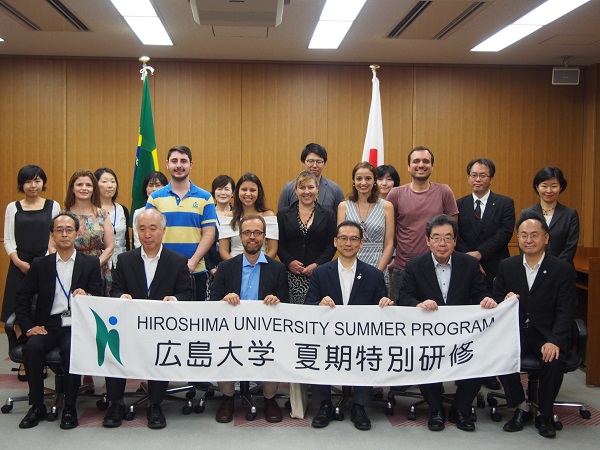 Group Photo at the Opening Ceremony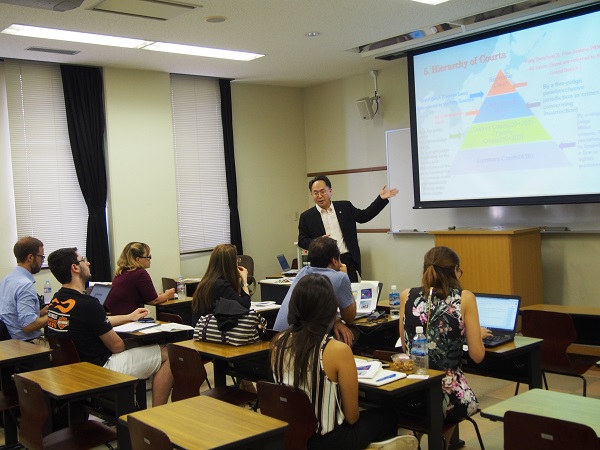 [Inquiries]
International Exchange Group,
Hiroshima University
TEL: 082-424-6042