On November 23rd, 2019, the 14th Japanese Essay Speech Contest was held at Capital Normal University in Beijing, China, where the Hiroshima University Beijing Research Center is located.
The theme for this year's contest was "Eternal Neighbor – A New Beginning from the Reiwa Era". After recruiting essays from universities throughout China, five finalists who passed the first screening (essay review) and the second screening (oral presentation) were selected to perform their speeches at the venue. At the contest, there were about 100 people in the audience including students learning Japanese and Japanese teachers.
The contest began with a welcome speech by Professor Yoshichika Honda, Director of the Hiroshima University Beijing Research Center, followed by messages from special guests; Mr. Isao Iijima, Special Advisor to the Cabinet, and Mr. Naohiro Tsutsumi, Minister of the Embassy of Japan in China. Additionally, we had greetings from President and Representative Director Shigehiro Komaru of Fukuyama Transporting Co. (Executive Director of Shibuya Scholarship Foundation) who is the special sponsor of this contest.
Following that, the five finalists delivered their speeches in fluent Japanese. Finally, after severe reviewing, Ms. Li Yangjie from Tianjin University of Science and Technology was selected to be the Grand Prize winner. Ms. Xie Yuyin of China Foreign Affairs University won the "Shibuya Scholarship Foundation Executive Director's Award" from the special supporter's organization.
After the contest, Professor Xu Jinlong, Professor of Institute of Foreign Literature, Chinese Academy of Social Sciences, gave a special lecture entitled "The Propagation and Transition of the Motif 'Caveman' -Study on 'Death by Water'".
The audience intently listened until the very end.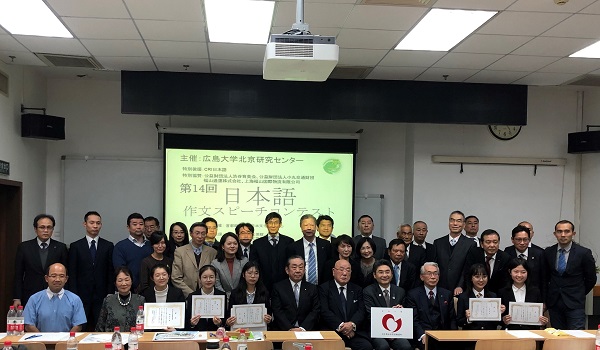 Commemorative photo with the finalists
[Inquiries]
International Exchange Group, Hiroshima University
TEL: 082-424-6042