On December 16th and 17th 2019, President Ying-Yao Cheng from National Sun Yat-sen University (NSYSU) in Taiwan and his colleagues, visited Hiroshima University (HU) and had a meeting with President Mitsuo Ochi on the Higashi-Hiroshima Campus.
The meeting's participants included Vice President Mitch Ming-Chi Chou and other delegates from NSYSU, Executive Vice President Shin-ichi Tate, and Vice President Yasushi Maruyama. After the meeting, the delegates visited and observed our Amphibian Research Center, Hiroshima Synchrotron Radiation Center and School of Medicine. Further, individual meetings were held between the academics from the both universities.
Located in Kaohsiung, NSYSU is one of the top leading universities in Taiwan. HU and NSYSU signed the inter-university exchange agreement in February 2019 and have deepened exchange since then, for example, by holding a public relations event for HU at NSYSU in May in the same year.
It is hoped that exchange between the two universities will flourish even further.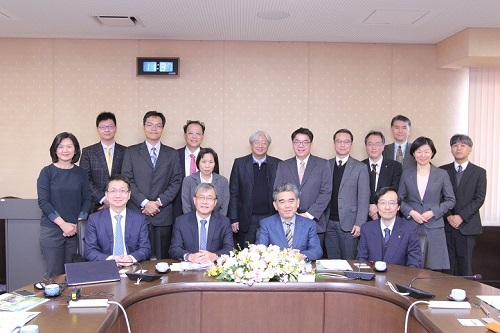 Commemorative photo
(Left center: President Cheng, Right center: President Ochi)
[Inquiries]
International Exchange Group, Hiroshima University
TEL: 082-424-6042