On December 7th, Hiroshima University (HU) held the 4th Japanese Essay Speech Contest in Universitas Darma Persada (UNSADA) in Jakarta, Indonesia where the PERSADA-HU Collaboration Project Center is located.
The contest was held jointly by PERSADA-HU Collaboration Project Center and Komaru Transportation Foundation. The contest is held every year since 2016 and has been recruiting essays themed "Transportation" since then. A total of 122 essays were submitted after recruiting entries from 10 universities taking a lead in Japanese language education in Indonesia. 31 essays chosen by the universities were then narrowed down to 10 finalists who presented their speeches at the contest that day.
The contest started off with welcome speeches by Mr. Shigehiro Komaru, Head Director of the Komaru Transportation Foundation and President of the Fukuyama Transporting Co. Ltd., Mr. Ismadji Hadisoemarto, Vice President of the Association of Indonesian Alumni from Japan (PERSADA) and President Tri Mardjoko of UNSADA.
Japanese Ambassador to Indonesia H.E. Masafumi Ishii, the guest of the event offered the words of encouragement for this event not only promoting friendship between Japan and Indonesia, but also nurturing individuals who will build a bridge between the two countries.
Following that, the 10 students presented their speeches in Japanese fluently. Based on the judges' strict and fair reviews, Ms. Rizka Ramadhani from UNSADA was chosen to be the first prize winner of the contest.
At the end of the contest, Professor Yoshichika Honda of HU Morito Institute of Global Higher Education made closing remarks to conclude the event. The audience of approximately 250 people including Japanese language students and teachers, listened enthusiastically until the very end.
The 10 participating universities:
Universitas Indonesia, Padjadjaran University, Indonesia University of Education, Universitas Gadjah Mada, Universitas Brawijaya, Universitas Sumatera Utara, Universitas Hasanuddin, Universitas Darma Persada, Universitas Airlangga, Universitas Udayana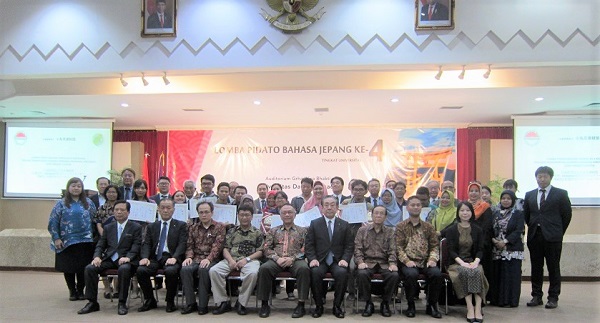 [Inquiries]
International Exchange Group,
Hiroshima University
TEL: 082-424-6042