Dr. Naoki Isobe and Dr. Toshihisa Sugino of the Graduate School of Biosphere Science visited Khon Kaen University in Thailand on 16-22 Jan, 2017 to jumpstart collaborative research on heat stress physiology of domestic animals. With the support of the Research Center for Animal Science (RCAS) of Hiroshima University, the two professors had a meeting with Dr. Monchai Duangjinda, Dean of the Faculty of Agriculture at Khon Kaen University, Dr. Virote Pattarajinda, the Vice Dean, and Dr. Suporn Katawatin.
The problem of heat stress in domestic animals is on the rise everywhere as a result of environmental changes, particularly climate warming. This can affect animal production significantly. Animal heat stress studies in Japan can benefit from research on the physiology of domestic animals in Thailand where high temperatures occur throughout the year. Initially, laboratory conditions for measuring some antimicrobial peptides and hormones by ELISA were evaluated at Khon Kaen University. Further collaboration along this line is expected in the coming months.
To recall, the groundwork for bilateral collaboration between Hiroshima University and Khon Kaen University was set when a group of Japanese researchers from RCAS visited on March 2016 for initial discussions. Furthermore, the formal MOU with Khon Kaen University was signed at Hiroshima University on November 5, 2016 during the 9th International Symposium on Food and Environment.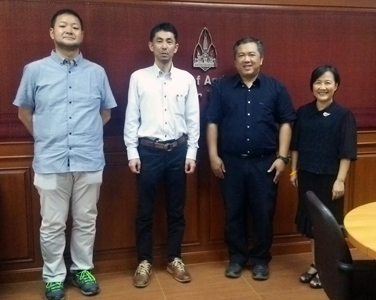 Dr. Toshihisa Sugino and Dr. Naoki Isobe (1st and 2nd from the left) shown with Dr. Monchai Duangjinda and Dr. Suporn Katawatin (2nd and 1st from the right) during the courtesy call at Khon Kaen University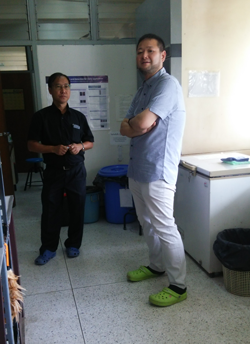 Dr. Sugino inspecting laboratory facilities at Khon Kaen University accompanied by Dr. Virote Pattarajinda (left)