10th International Symposium on Food and Environment
"Status of Biotic Resources and Efforts for Sustainable Production in Asian Countries"
Human existence largely depends upon sustainable food production in many countries. Various factors related to climate change, human population increase and change of socio-industrial structure caused by rapid development are affecting the production environment of biotic resources which consist of genetic and environmental resources. It is of our great concern how to manage and produce sustainably such valuable biotic resources for clothing and medicine as well as foods that are essential for human life.
This symposium is convened to present overviews and discuss current situations, issues and challenges affecting biotic resources and the environment towards their sustainable production in Asian countries.
Date
4 November, 2017 (Sat.) 13:00 - 16:30
Venue
C206, Graduate School of Biosphere Science
Program
13:00 Opening Message
13:10 "Overview of the Studies on Bioactive Peptides in Taiwan"
 Dr. Wen-Dee Chiang (Tunghai University, Taiwan)
13:50 "Food Production and Environment Management Systems and Problems in Thailand"
      Dr. Chaiyapoom Bunchasak (Kasetsart University, Thailand) 
14:30 Poster presentation
     (by staffs supported by the 2016 Grant-in-Aid for Research from the Graduate School of Biosphere Science, and students of Hiroshima University and Tunghai University)
15:20 "Mechanisms of Coastal Biological Production in Southeast Asia and some concerns:
 Case Studies at the Myanmar and Indonesian Coasts"
      Dr. Kazuhiko Koike (Hiroshima University, Japan)
16:00 General Discussion
16:20 Closing Remarks
◆This symposium is counted for students as a Science Seminar [Kyodo Seminar].
(as 2 times of Science Seminar for students of Graduate School of Biosphere Science)
◆ Hosted by the Graduate School of Biosphere Science, Hiroshima University
  Co-hosted by the Research Center for Animal Science, the Research Center for Japanese Foods and the Research Core for Plant Science Innovation, Hiroshima University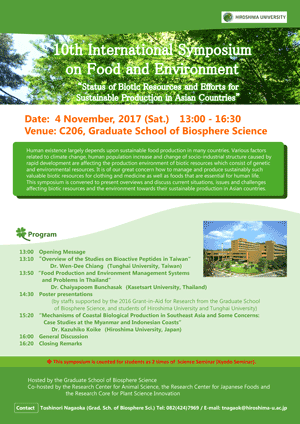 Contact
Dr. Toshinori Nagaoka
Graduate School of Biosphere Science, Hiroshima University
Tel: 082(424)7969
E-mail: tnagaok@hiroshima-u.ac.jp (Please input half-size "@" character.)