Hiroshima University is holding "International Symposium of Assessing Learning Outcomes for Education Abroad" (Interpretation Available)
Recent years, the number of study-oversea programs, especially short-stay programs, are
increasing at universities and we are expected to verify, assess and analyse the outcomes. This
symposium is annoucing some practices which monitor the learning outcomes objectively by
testing tools available in Japan now.
【DATE】:October 4th (Fri) 2019
【TIME】:9:20~17:00
【VENUE】:Tokyo International Exchange Center 3F "PLAZA HEISEI" International Conference Hall
【ACCESS】:http://www.jasso.go.jp/en/kyoten/tiec/access.html
【THEME】:"International Symposium of Assessing Learning Outcomes for Education Abroad"
(Japanese/English interpretation available)
【PROGRAM】
    9:20 Doors Open
9:40~10:00 Address by representatives JASSO / Hiroshima University
10:00~10:40 Keynote① Dr. John Dirkx (Michigan State University) 
     "Transformative learning in international and multicultural education"
10:40~11:40 Keynote② Dr. Craig N.Shealy, Dr. Lee Sternberger 
     "Assessing International, Multicultural, and Transformative Learning"
11:40~12:30 BREAK TIME
12:30~16:10 Introduction of Examples  
  ≪PROG≫Shibaura Institute of Technology (RIASEC) 
  ≪GPS-Academic≫Ritsumeikan University (Benesse i-Career)
  ≪Oversea Study Assessment≫Hitotsubashi University
・Institute of Behavior Traits(JAOS)
  ≪BEVI-j≫University of the Ryukyus・Kansai University・Hiroshima University
16:15~16:50 Panel Discussion / Conclusion
16:50~17:00 Closing Speech
17:30~19:00 Reception Party
【Registration】:Please register from the URL below by September 20th (Fri).
When your registration is completed, you will receive "Certificate Ticket" via email.
Please bring the ticket with you to the reception desk for check-in. 
        https://comm.stage.ac/aloea/
【About Symposium Materials】:We will announce when the materials are uploaded.
Please kindly download in advance and take it with you.
      
We appreciate your understanding and we look forward to seeing you at the symposium.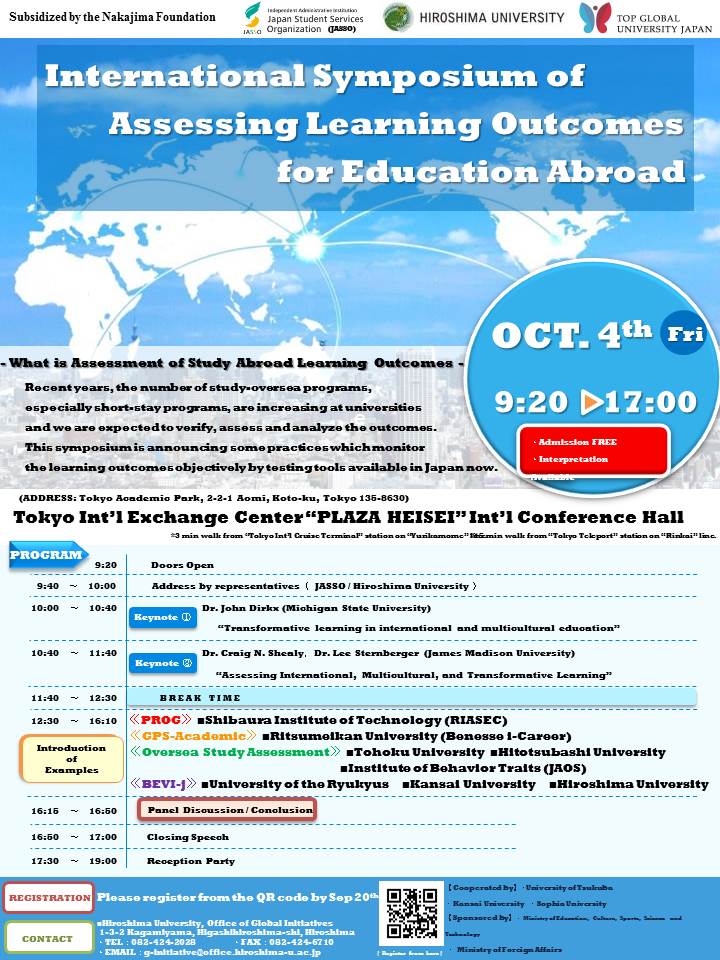 このシンポジウムは, JASSOの国際シンポジウム助成事業に本学が採択されたことに伴い開催するものです。