Housing
Students enrolled in the HUSA program are housed in the Ikenoue Student Dormitory Complex, located at 10 minutes walking distance from the campus.
Ikenoue Student Dormitory
The Ikenoue Student Dormitory was established to provide students with residential accommodation appropriate to their studies, which would also enable them to experience daily life as a responsible citizen.
While the dormitory features individual private rooms, thereby respecting students' right to live as individuals, each floor is home to between 10 and 20 students, so it also offers opportunities for communal living. In addition, Japanese and international students live alongside each other in the same building, providing opportunities to deepen mutual understanding and engage in international exchange.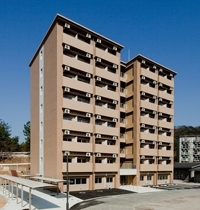 The photograph shows the new Building No. 11 (Type C), which was completed in February 2010.
【Address】
2-812-62 Kagamiyama, Higashihiroshima, 739-0046
【Structure】
Reinforced concrete
【Rooms】
Individual western-style rooms (figures below show area per room)
- Buildings No. 1-4 and 7-9: 10 square meters
- Buildings No. 5-6 and 10: 12 square meters
- Building No. 11: 14 square meters
【Commuting time to Higashihiroshima campus】
On foot: about 10~15 minutes
By bicycle: about 5~10 minutes
Living Expenses
Tuition fee
Students participating in the HUSA program pay their tuition directly to their home institutions. No tuition is required to be paid to Hiroshima University. However, textbooks and other learning materials will be the financial responsibility of the students.
Living Expenses
Dormitory rent is significantly less expensive than rent for a private apartment, which starts at 40,000 yen per month. This makes the HUSA program also attractive for those students who want to study in Japan at their own expense.
The rate for a single room in the dormitory is approximately 4,800-15,000 yen per month plus cleaning fee and utilities.
Meals are the responsibility of the student. There are, however, adequate cooking facilities in the dorms, as well as several inexpensive cafeterias on campus.
Below is a sample of average living costs for a student. It includes rent and utilities for the dormitories, various other charges for health insurance etc. and costs for three meals a day.
It is possible to live and study in Hiroshima for about 70,000 yen (approx. US$700, US$ 1= JPY100) per month, but if a student wants to travel during his/her stay in Japan, he/she will probably need more. The HUSA program estimates that study at Hiroshima will cost a privately funded student between US$900-1,000 per month not including airfare to and from Japan.
Estimated Monthly Living Expenses
| | |
| --- | --- |
| Room | 4,800-15,000 yen |
| Cleaning fee & Utilities | 10,000 yen |
| Meals (3 per day, 7 days a week) | 40,000 yen |
| Cell Phone & Internet | 10,000 yen |
| National Health Insurance Tax | 2000 yen |
| Total | 66,800-77,000 yen |
Dormitory utilities include electricity, gas and water. Students pay utilities for individual room usage and for common usage. Apartment utilities include fees for electricity, water, and garbage disposal and sewage. The dormitories provide refrigerators and coin washing machines; where as private apartments do not provide a refrigerator or washing machine.
No room deposit is required.
A private phone line can be installed in the dormitory room for approx. 3,000 yen per month service charge. This does not include the cost of your personal calls. HUSA usually suggests students to get a portable phone, which can be obtained for about 5,000 yen per month. There is also a phone on each floor that can not be used to call out, but can receive calls, including international calls.
If you want to use internet in your own dormitory room, you must have a contract with a telephone company. It usually takes two to three weeks to set up the connection. Monthly charge will be approximately 3,000 yen-5,000 yen.
Payment Reminder for HUSA Students
Expenses at the dormitory
Automatically withdrawn from your Japan Post Bank account monthly*
Dormitory fee (Rent excluding cleaning fee and utilities)
There is no "pay by the day" system for monthly dormitory fee. Monthly fee is withdrawn from your Japan Post Bank account on the 12th of each month. Your first dormitory fee for the month of September will be withdrawn on October 12 along with the fee for October.

l Bills for September and October ⇒ Withdrawn at once on October 12

l Bills for November and after ⇒ Withdrawn on the 12th of the same month
Common Service Expenses (Cleaning fee)
Monthly fee between 700yen and 1,500yen is automatically withdrawn with dormitory fee.
Electricity and gas
l Bills for September and October ⇒ Withdrawn at once on November 12
l Bills for November and after ⇒ Withdrawn on the 12th of the next month
Water - Automatically withdrawn every second month
l Bill for September will be withdrawn on October 12
l Bills for October and after ⇒ Withdrawn every second month
e.g.) Oct. & Nov. ⇒ Withdrawn at once on December 12

Month

Fees

Will be withdrawn in:

Sep.

Oct.

Nov.

Dec.

Jan.

Feb.

…

Aug.

Rent

✔

for Sep. & Oct.

✔

for Nov.

✔

for Dec.

✔

for Jan.

✔

For Feb.

✔

for Aug.

Electricity & gas

✔

for Sep. & Oct.

✔

for Nov.

✔

for Dec.

✔

for Jan.

…

✔

for Jul. & Aug.

Water

✔

for Sep.

✔

for Oct. & Nov.

✔

for Dec. & Jan.

✔

for June, Jul. & Aug.
* Notice:
・ If monthly rent could not be withdrawn on a designated date due to a shortage of the balance, you are required to pay the equivalent amount in cash at the dorm caretaker's office.
・ You may be required to move out of the dormitory if you fail to pay your fees (dormitory fee, common service expenses, and utilities) for 3 consecutive months or more and ignore reminders for payments.
・ For the month of your departure, please pay bills including rents and utilities in cash at the caretaker's office before you move out. (Your final utilities should be paid on the day you leave.)
National Health Insurance Tax
l Period of taxation: The day you start living in Japan – the day you leave the country

l Payment: Monthly Payment should be made on your own at a bank or convenience store after you receive bills from the city. **



**You will be taxed with the minimum rate (about 2,300yen/month) until March next year, and then the tax rate for the new fiscal year will be re-calculated based on your income in the previous year (Not Fiscal Year) and charged to you from July. (You will not receive any bills between April and June.) For the month of your departure, you may be allowed to pay by the day depending on your departure date. You need to visit the city hall to have the amount of your bill adjusted and pay the bill as well as cancel the health insurance before you leave.
National Pension
Since exemption procedure was completed at the arrival orientation, you are not required to pay for national pension. However, you will be required to fill out forms again for the exemption procedure at city hall at the end of July before your departure.
Cell Phone, phone, internet- Optional
Please cancel contract and complete your payment before your departure.