On April 19th, 2017, a group of former international students who studied at Hiroshima University around 30 years ago visited the Higashi-Hiroshima Campus and paid a courtesy visit on President Mitsuo Ochi.
The visiting group consisted of the following members: Ms. Eugenie Reid Harris, Ms. Jeanette Stovel, Ms. Meg Clare Cherry, Mr. Peter Gold, and Ms. Ute Janssen, all of whom are former HU students. Also, Mr. Michael McGinn, a friend of Ms. Stovel, joined the group.
From around 1986 to 1988, before HU's merger and relocation to the present Higashi-Hiroshima Campus was completed, the five of them spent their school days on the Higashi-Senda Campus in the City of Hiroshima studying mainly Japanese language and culture.
During the courtesy visit, the former students reminisced in still-fluent Japanese about their student days and reported their current situations as well as their achievements made after graduation. They also expressed their appreciation to HU for giving them the opportunity to accumulate valuable experiences and make life-long friends.
Hiroshima University has actively accepted international students from all over the world – in 1986, the number of international students was no more than around 230, but currently it has increased to 1,451 (as of Nov. 1, 2016).
We wish all our graduates a successful future full of opportunities.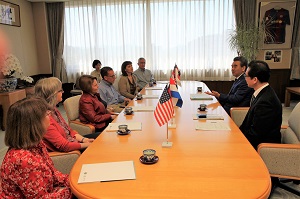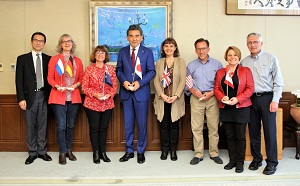 [Inquiries]
International Exchange Group, Hiroshima University