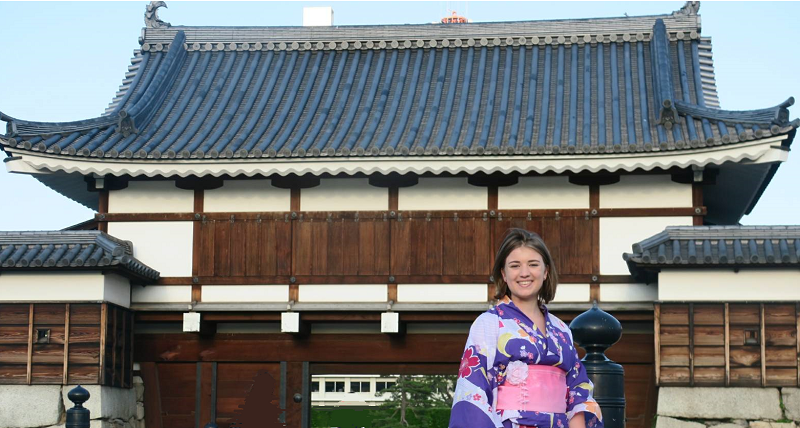 Voice of Freya Kate Mann (from New Zealand)
Affiliation:MEXT Japanese Language + Culture Study Program
Duration: October 2016 to September 2017
Kia Ora! My name is Freya, an exchange student from New Zealand. I came to Hiroshima University from its New Zealand sister school Auckland University, having been lucky enough to be placed in the MEXT scholarship program. I arrived in Japan last October, and will stay for one year until this September.
Coming to Japan was a big step for me – I was 19 when I left my country, had never lived apart from my parents before, and had only ever used Japanese in the classroom before, never in a practical context. Needless to say, I had many anxieties about leaving my home and living abroad for a year. However, I was also brimming with excitement. It had been a dream of mine to one day come to Japan and experience first-hand the culture and language I had been studying since high school. I was also blessed with the opportunity to come on the MEXT scholarship, which would not only give me financial security, but would allow me to conduct undergraduate research over the duration of my stay.
During my year in Japan I have been attending weekly Japanese language classes. There are a variety of subjects including vocabulary, listening comprehension, expressions and proverbs, language analysis, and language through anime, providing a comprehensive learning curriculum. During the first term, from the results of class entrance exams I was just able to make it into level 4 classes, but due to the gradual progression of my Japanese I made it into the advanced level 5 classes in term two. Aside from these classes, I have been studying for the Japanese Language Proficiency Test (JLPT). I aim to take the Level 2 exam when I return to New Zealand, and passing the highest Level 1 test with strong results is my long-term goal. As a native speaker of English from a non-kanji using country, learning Japanese kanji is an especially difficult aspect of the language. Trying to learn both the Onyomi and Kunyomi of each kanji, sound patterns in kanji compounds, irregular readings; it is all very complex! However, compared to the wild and often illogical English language, it may actually be very easy to learn!
Living in Saijo has been generally pleasant. Although some people may say it's "too quiet", I find the peaceful small-town atmosphere to be a refreshing experience. My hometown Auckland is a bustling metropolitan area, and Auckland University is located in its heart. I especially love the climate of Saijo, being able to experience the full spectrum of the four seasons. In Auckland it never snows, even in winter, and there are not many natural areas within the city and around the university. Therefore, I was very excited for the coming of snow during the last winter. On the first night that it snowed, my friends and I were so excited that we ran out of dorms in our pajamas, dancing like children and taking pictures. For my two friends from the Philippines and Indonesia, they had never seen snow in real life before – I was so glad to have been able to share that experience with them. I will never forget those memories of three crazy exchange students dancing outside in their pajamas in the middle of a cold winter night.
I have met many wonderful people and had countless other unforgettable experiences during my time in Japan. The six other foreign students taking the same MEXT program as me are a diverse and lovely group of people, with whom I have shared many wild adventures. Together we have gone to many cultural-exchange events, local Japanese schools, held Christmas, birthday, and New Year's parties together, visited restaurants, beaches, parks, cities, and forests, and learnt about each other's unique cultures. Around December I started doing part-time translation work for the University's International Centre. While I started off with correcting translated English, I was eventually able to do the entire Japanese to English translation process myself. It has been very rewarding to be able to apply my Japanese skills in a real-life work situation, and see articles and that I translated posted on the University website.
Experiencing life in a foreign country, even for a short time, is something that I hope everyone can experience. In the one year that I've been in Japan I've learnt many valuable things. My language ability has developed, I've become life-long friends with people from various countries, and my perspective on the world has been broadened. Although I have to return to New Zealand this September, I definitely plan on coming back to Japan one day.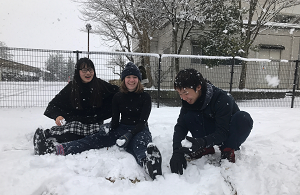 Picture above: Morning of the first snow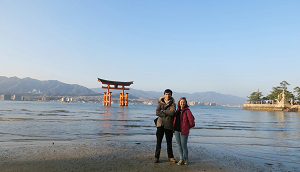 Picture above: At Miyajima Torii Gate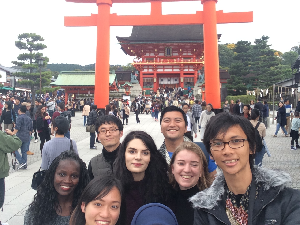 Picture avobe: At Fushimi Inari Shrine (Kyoto) with friends from same exchange program