For 5 days from January 29th to February 2nd, Ms. Benita Pérez Parreño, the Head of International Admissions, International Relations Office of our partner university CEU Cardenal Herrera University, Spain, visited our university for Job-shadowing Training. This training was implemented with the aid of Erasmus Plus, an educational grant program of the European Union (EU).
This training was conducted mainly in the International Center and School of Integrated Arts and Sciences, where Ms. Pérez attended the Spanish and Japanese language classes. She also observed the Japanese Language and Culture Special Program and International Exchange Events held in HU and exchanged views on the topic of student exchange with faculty members of HU.
As part of the training, Ms. Pérez gave a presentation on study abroad and student life in Spain that was attended by 16 faculty members and students from HU. Students who planned to study abroad in Spain the following month attended, asking specific questions on study abroad life in Spain.
HU signed an inter-university exchange agreement with CEU Cardenal Herrera University in 2016. With this, it is hoped that international exchanges for students and personnel between the two universities will develop further.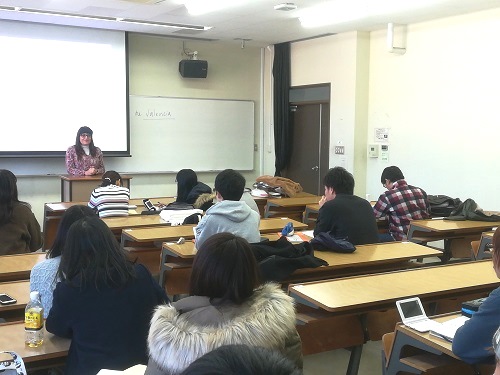 Q & A Session with Students in Spanish
(Liberal Arts Education "Intensive Spanish IIA)
Interaction with Taiwanese and Japanese students using the Poem Card Game
(Japanese Language and Culture Special Program)
[Inquiries]
International Exchange Group, Hiroshima University
TEL: 082-424-4346
E-mail: kokusai-ryugaku*office.hiroshima-u.ac.jp
(Please replace * with @.)