On July 8th 2019, President Tri Mardjoko from Darma Persada University (UNSADA) in Indonesia and his colleagues visited the Higashi-Hiroshima Campus of Hiroshima University (HU) and met with President Mitsuo Ochi, Executive Vice President Toshiyuki Sato (in charge of International, Peace and Fund affairs) and Vice President Yasushi Maruyama (in charge of International Exchange).
HU and UNSADA signed an inter-university exchange agreement in September 2013. In addition, HU established its overseas base "PERSADA-HU Collaboration Project Center" in UNSADA in February 2016 and has actively promoted exchange with UNSADA since then.
It is hoped that exchange between the two universities will flourish even further.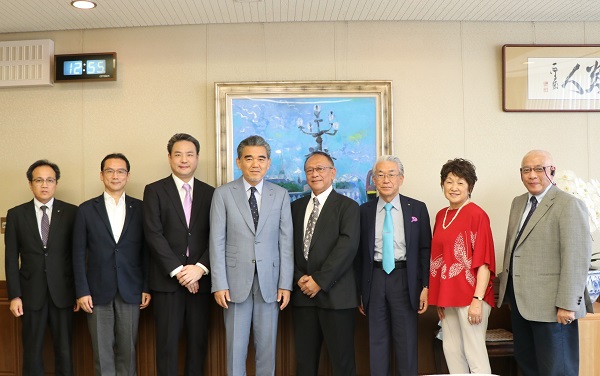 Commemorative photo of the participants
(Center right: President Mardjoko, Center left: President Ochi)
[Inquiries]
International Exchange Group, Hiroshima University
TEL: 082-424-6042