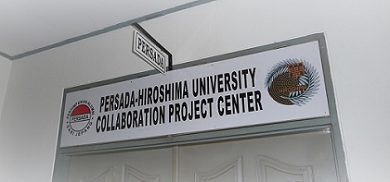 Location: Republic of Indonesia (Jakarta City)
On February 11th, 2016, the PERSADA-HU Collaboration Project Center was established at the headquarters of the Association of Indonesian Alumni from Japan (PERSADA), which is located on the campus of Darma Persada University (UNSADA) in Jakarta City of the Republic of Indonesia.
PERSADA, founded in 1963 by former Indonesian international students in Japan, is an organization hoping to bring the two countries closer together by building relationships of friendship. UNSADA, the affiliated university, was created in 1986 by PERSADA in order to contribute to Indonesia's development through study abroad experiences in Japan.
In attendance at the opening ceremony, among others, were Mitsuo Ochi, President of Hiroshima University, Dr. Ir. Ginandjar Kartasasmita, Advisor to PERSADA (also External Councilor of HU's Administrative Council), and Dr. H. Dadang Solihin, Rector of UNSADA.
With the opening of this center, it is hoped that the creation of networking events and other activities by Indonesia's alumni associations, as well as academic exchanges between UNSADA and Hiroshima University, will flourish even further.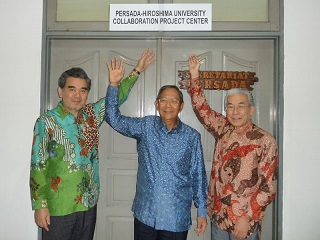 Establishment of the Center (From Left: President Ochi, Dr. Ginandjar, and Executive and Vice President Sato)
Related Articles