On February 5th and 6th 2019, President Mitsuo Ochi and Executive and Vice President Toshiyuki Sato visited Hasanuddin University and Darma Persada University in Indonesia.
Hasanuddin University is a national university located in Makassar in the Sulawesi Island in east Indonesia. HU concluded an inter-university exchange agreement with Hasanuddin University in 1997 and both universities have promoted active student and research exchange since then. In September 2018, HU staff, faculty and students gathered donations to support rescue efforts following the Sulawesi earthquake, and this time received a word of appreciation from Rector Dwia Aries Tina Pulubuhu of Hasanuddin University.
Also, Ministry of Research, Technology and Higher Education of the Republic of Indonesia (RISTEKDIKTI) expressed their appreciation to HU for contributing to the development of higher education through continuous exchange activities with universities in Indonesia. The certificate of commendation was presented to President Ochi through Rector Dwia.
Darma Persada University (UNSADA) was founded in 1986 by the Association of Indonesian Alumni from Japan (PERSADA) in order to contribute to Indonesia's development through study abroad experiences in Japan. HU established the PERSADA-HU Collaboration Project Center in 2016. In our dialogue with Rector Tri Mardjoko of UNSADA, we discussed the specific efforts in future, for example how to further expand student exchange activities and cooperation in Japanese language education.
It is hoped that student and research exchange with both universities will be further promoted.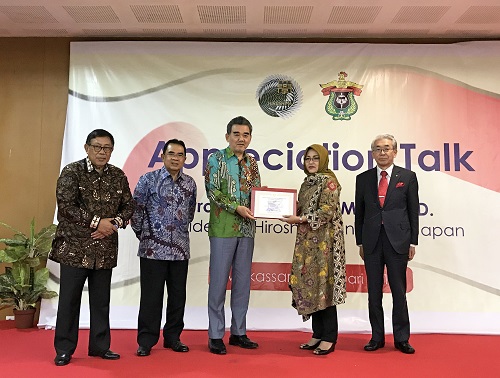 Commendation Ceremony at Hasanuddin University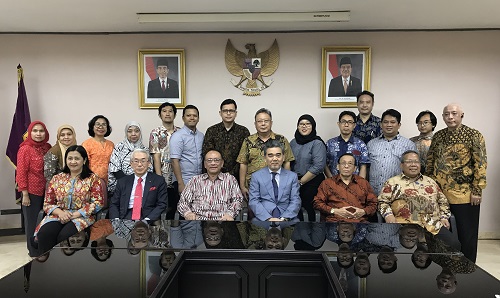 Commemorative Photo in Darma Persada University
(Center left: Rector Tri, Center right: President Ochi)
[Inquiries]
International Exchange Group, Hiroshima University