On September 17th, 2013, Hiroshima University and Darma Persada University (UNSADA) established an agreement to promote academic exchanges between the two institutions. UNSADA was founded in 1986 by the Association of Indonesian Alumni from Japan (PERSADA) in order to contribute to Indonesia's development through study abroad experiences in Japan. And PERSADA, founded in 1963 by former Indonesian international students in Japan, is an organization hoping to bring the two countries closer together by building relationships of friendship.
In March of 2013, Hiroshima University awarded an honorary doctorate degree to Mr. Hasan Rahaya, who had been studying at our predecessor school, Hiroshima University of Literature and Science, as an international student who had lived through the atomic bomb. This award ceremony prompted conversations about the creation of an academic exchange agreement, which has now become a reality.
UNSADA hosted the signing ceremony at its campus in Jakarta City. In attendance, among others, were Mr. Hasan Rahaya, Dr. Shin-ichi Uye, the Executive and Vice President of Hiroshima University, and Dr. Oloan Siahaan, Rector of UNSADA.
There are currently many international students from Indonesia at Hiroshima University. With the signing of this agreement, it is planned that UNSADA students will participate in Hiroshima University's Japanese Language and Culture Advanced Studies Program. As the bond between Hiroshima University and UNSADA/PERSADA deepens, it is hoped that academic exchanges between the two countries will flourish and that the ties between the international student alumni network through Indonesia will be strengthened.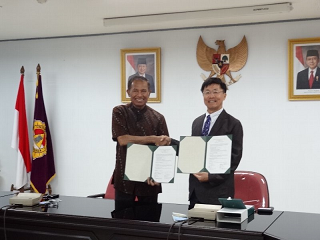 Signing Ceremony: Rector Oloan (left) and Executive and Vice President Uye (right)