Short Report 1 (from Mekong University, Cambodia, Y. MURAKAMI)
(29 Dec., 2018)
Hello, greetings from Phnom Penh in Cambodia. It's already been nine days since I started my intership at Cambodian Mekong University (CMU). I'll be here until end of February.
This week was over so fast. Because, we had study training trip to Mondolkiri (near the border with Vietnam, 7-8 hours by bus from Phom Penh) on 25-27th December with Hosei University student's.
They were students specializing in media literacy then CMU Cambodian students and Japanese students were divided into groups and themes (1.minority ethnicities, 2.fabrics, 3.coffee, 4.children, 5.forest).
They created introduction movies, documentaries and made presentations.
After modification, they'll upload to you-tube, maybe we can see soon this year version.
So, I had a fuulfulling first week.

Short Report 2 (from Mekong University, Cambodia, Y. MURAKAMI)
(05 Jan., 2019)
In CMU (Cambodian Mekong University), we had a new-year's party with students and teachers on 31st Dec around 20 o'clock to midnight. They made a lot of foods, drank Angkor beers and coke. It was great time to spend with them, we were dancing, singing songs and so on.
From one minute before the countdown, they lighted the candles, turned off the light, prayed, numbered the countdown in the form of love. After the year has passed, we hug each others, that's Cambodian style.Then, the school began on 2nd of January, I have observer the class.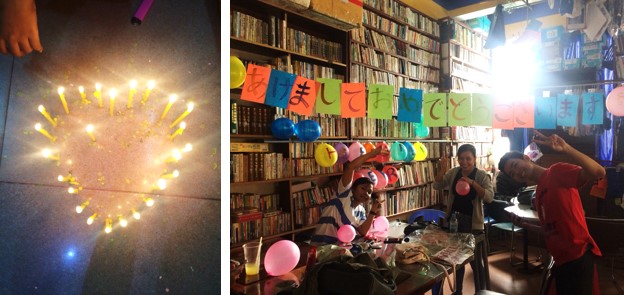 Short Report 3 (from Mekong University, Cambodia, Y. MURAKAMI)
(12 Jan., 2019)
This week, I had a lot of things. Firstly, I have observered a class and suporrted who study N2(日本語能力試験JLPT).Secondly, I and my friends went to the rice-cake pounding and eating event. The rice cakes that had just been pounded were so good. I could feel Japanese new year. Thirdly, I got a rash on my back and stomach, it was so itchy. Therefore I went to clinic however not changing my body, so went to another more bigger hospital then I was hit by drip infusion, now I am receiving recovery. It is Health first. I hope tomorrow is another good day.

Short Report 4 (from Mekong University, Cambodia, Y. MURAKAMI)
(19 Jan., 2019)
We had Japanese classes of kanji for the first time as university first graders. They have never used Japanese calligraphy in their life so far. However, they used a brush to write kanji well. I was surprised and thought that I would like to have Japanese calligraphy class again.

Short Report 5 (from Mekong University, Cambodia, Y. MURAKAMI)
(3 Feb., 2019)
We had a ''THE 9th ANGKOR WAT JAPANESE LANGUAGE CONCOURS'' at the Cambodian Mekong University Siem Reap Campus in last Sunday.I was really impressed with their speech(てつがくのライオン) even through our uni student's didn't win. Then, Sun Yu started teaching class, during her teaching I always supported her. Both of us taught English and Japanese lauguages from this week.
Also, we went to sonlight kindergarten to observe the children. When we observed them I was so surprised by two things. First one is that they have two volunteers from Norway, second one is the children can speak in English and said Hello to us. They don't have Art education in the curriculum, but one of the volunteer from Norway who was leading children to sing a song when I came there. It seems like music education. I had a productive this week.

Short Report 6 (from Mekong University, Cambodia, Y. MURAKAMI)
(9 Feb., 2019)
In this week, we had a Chinese NewYear's(春節) holidays so we didn't have a class until on Wednesday.
This is an update of observation in primary school called AI center[Left picture] and VDTO (Vocational and Developmental Training Organization). The AI center was built by Ms. Ai Watanabe, founded in Sep 2005. Most students go to public schools and also go to the AI center. Because in Cambodia it often takes morning classes, day classes, evening classes and three-part system, so they often go to different schools in the morning and afternoon. That is not uncommon, it's commonplace for students.
the second VDTO[Right picture], was built by Australia and U.S.A and so on NGOs since 1999.
It seemed to be good school of the curriculum. Student's face was intelligent and eyes were sparkling.They have morning class, afternnon class and evening class also besides teacher teach five subjects in Khmer, Mathmatics, Science, Social atudies and English. It was a school built in a slum area, but now the school is gradually improving the quolity of education.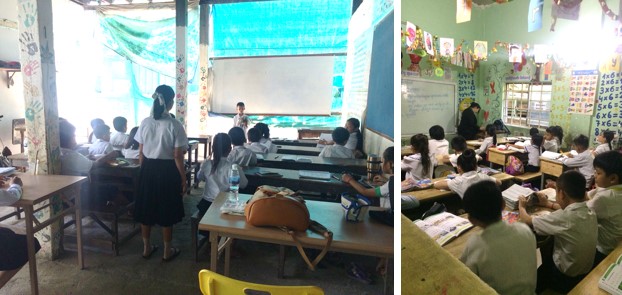 Short Report 7 (from Mekong University, Cambodia, Y. MURAKAMI)
(23 Feb., 2019)
Y.Sun and I went to Battambang in orphans' home called 'Hope Of Children (HOC)' on Sunday.
We conducted a workshop on ''Art with leaves'' for primary students, ''Top with three sheets of Origami'' for junior high school students and ''Bottle Airplane''. We were imoressed with their works and inspired a lot even though they don't have curriculum for Art subject they were very creativite and capble of thinking.
CMU has a grand piano of YAMAHA by donation. So, I was practicing accompaniment of ''On the day of departure (旅立ちの日に) in everyday on February.Finally, I was able to open a music lesson for CMU students more than one hour.

Short Report 8 (from Mekong University, Cambodia, Y. SUN)
( 4 Feb., 2019)
I started teaching class from Tuesday, and Yayoi helped me a lot, Sensei also gave me very productive advices after the class, it was truly a wonderful experience for me.
We went sonlight kindergarten for observation. We volunteered in the kindergarten for 3 afternoons. I experienced one totally different teaching model compared with China. This kindergarten have English and Khmer curriculum, even though children do not know how to write A,B,C... I also met two volunteers in this kindergarten who is from one of Bible school in Norway.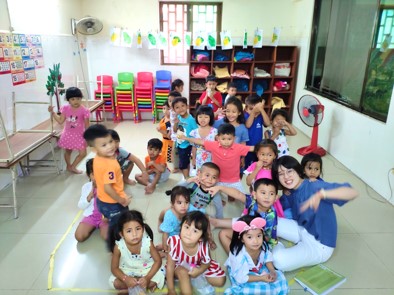 Short Report 9 (from Mekong University, Cambodia, Y. MURAKAMI & Y.SUN)
(18 Feb., 2019)
Greating from Battambang in orphans' home. We are supposed to held a Kizuna festival to make a croquette on next Friday to Sunday.So we had a parepare for croquette.
On Wednesday, Nara University students came here to Combodian Mekong University(CMU). They and CUM students had pesentations and introduced each other.
On Friday, they taught Japanese poem ''oreha kawakiri おれはかまきり'' using animals. They imported the way of Junior high school Japanese education for CMU.
We came to Battambang on Saturday to be a short-term volunteer in one orphan's room, named "Hope Of Children", built by Japanese NGOs.

Short Report 10 (from Mekong University, Cambodia, Y.SUN)
(25 Feb., 2019)
Last week, we had attended the short-term volunteer activity in Hope Of Children(HOC), one orphans' home in Battambang and returned back to Phnom Penh on Monday's afternoon. Even though it is not so long time for us to stay with these children, I was deeply impressed by their naivety and liveliness. Every children looks so happy and thirsty for knowledge.
In the weekend, we sold a croquette with students in Kizuna Festival hold by Royal University of Phnom Penh.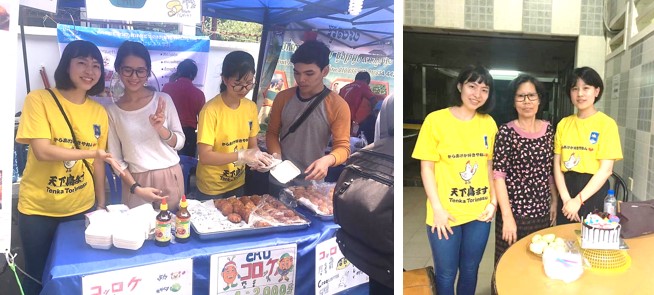 Short Report 11 (from Mekong University, Cambodia, Y.SUN)
(4 Mar., 2019)
I would like to update the 6th week internship in Cambodia Mekong University.
-Teaching the Japanese class in English.
-Visiting one Cambodia international school, which name is 'Western International
School (WIS)'.
This school covered the grades from Nursery to Grade 12.(It means they have pre-primary school, primary school and secondary school). There are great differences in curriculums between local schools and internationalschools.
-Helding the ' Hinabei'(火鍋) party as well as farewell party for Yayoi, who also attended this internship and already return back to Japan in 28th. Feb.

Short Report 12 (from State University of Makassar, Indonesia, H. Uswatun)
(19 Jan., 2019)
Good morning from South Sulawesi, Indonesia. My supervisor, the coordinator of physics teacher association, and me have checked the material that we will use for the professional development program. This week, I prepared materials, submit ted the documents for administration the second data collection "class observation", and visited schools for delivering invitation. It is difficult for me to go around because now is rainy season in Indonesia. But, I do enjoy the indonesian food like bakso and coto, both are kind of soup and also my favorite.

Short Report 13 (from State University of Makassar, Indonesia, H. Uswatun)
(27 Jan., 2019)
This week is quite terrible because of flood in some areas in south sulawesi including in Pangkep regency. We almost give up and plan to cancel the program. Fortunately, everything is better in two day before the program.
We have conducted professional development program for physics teacher in Pangkep regency. we plan four sessions and we just finished until the 2nd session.

Short Report 14 (from State University of Makassar, Indonesia, H. Uswatun)
(4 Feb., 2019)
In the 4th week, we have conducted the 3rd and 4th session for the professional development program, in this program, all of participant make experiment for hydraulic robote and spectrometer. Those activity took one day full because all participant find the difficulty in robote hidraulic. I also have conducted pretest for class activity to analyse student's reasoning skills.
Lastly, I do enjoy the traditional food in Pangkep regency as well as Makassar.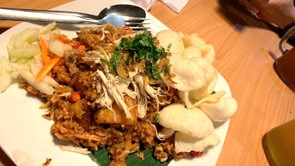 Short Report 15 (from State University of Makassar, Indonesia, H. Uswatun)
(11 Feb., 2019)
Good morning from Pangkep, South Sulawesi, Indonesia. This is my 5th week internship report.
Last tuesday, 5th february is holiday, which is the day that we conduct physics class, so I just visited the second school for pretest. Last week, I also have meeting with my supervisor, we are planning to conduct sharing session for students in the host institution. Unfortunately, we have difficulty for budgeting due to the new organization committe in the host institution, but we still try to make the effort, hope We can conduct the event before 23rd february. I think that's all for this time.

Short Report 16 (from State University of Makassar, Indonesia, H. Uswatun)
(24 Feb., 2019)
I want to update the 7th week internship in Indonesia State University of Makassar.
I have done the last activities; conducting experiment, posttest survey in the school as well as Making talk and share Videos about Master and PhD scholarship in Japan, Hiroshima University, and STEM Education with two vloggers from South Sulawesi who focus in Education.
In this class, integrated STEM Education was implemented. It was a new experience for students that literally different to their previous physics class. In the end, we finished the meeting with posttest survey and I am going to analyze all test from now.

Short Report 17 (from FORWARD, Nepal, M. Badamvaanchig)
(24 Feb., 2019)
Greetings from Chitwan, Nepal. It has been a week since I have reached in Nepal.
Firstly, FORWARD Nepal has welcomed me very warmly. I have attended the weekly meetings with FORWARD team and they have briefed me about their operation. Also, I have been given tons of materials from their past and
ongoing projects and it financials which I have been studying mostly last week.
Secondly, I had a meeting about my internship scope and what FORWARD expect from me during the internship. In the upcoming week, I will be
mostly helping the finance team and I will be able to get more about financials.
I have lunch with FORWARD team everyday and it has been the most informative week for me. I am learning lot about the organization, the country and its culture.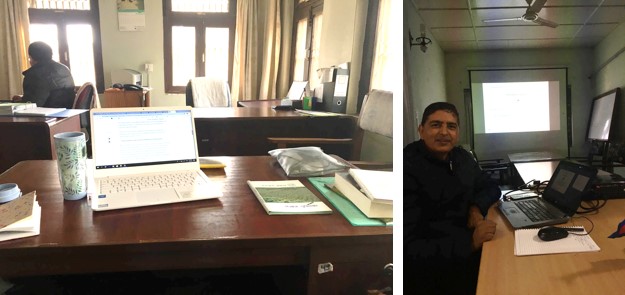 Short Report 18 (from FORWARD, Nepal, M. Badamvaanchig)
(2 Mar., 2019)
I have spent a wonderful one more week in FORWARD Nepal.
This week, I mostly helped the finance team with their daily work and worked on some files that it needed to be sorted and structured. As I have talked to my internship supervisor at FORWARD Nepal, I am currently working on a short publication which covers last 21 years financial data of FORWARD. So, I am intended on creating the publication which FORWARD can use for their magazines and reports. Until next week. Have a nice day.
Short Report 19 (from FORWARD, Nepal, M. Badamvaanchig)
(18 Mar., 2019)
Greeting from Chitwan, Nepal for the last time. I am finishing my internship today and heading back to Japan.
My last week has started with traveling to Morang district, the trip was quite long but interesting. FORWARD staff members and I visited three projects sites
Lastly, I have presented the materials I have worked on last weeks to FORWARD and they were seemed to be satisfied with the result. Also, FORWARD Nepal throw me farewell party which was very bittersweet and it has been amazing one month here.
Short Report 20 (from Natural History Museum, Nepal, S. Maharjan)
(10 Mar., 2019)
Hope everything is well with you. I would like to report the accomplishments in the 2nd week. This is mainly for the preparation and execution of the training on Museum Education for School Science Teachers, which included preparation of presentations, materials, planning and successful organization of the training.
Altogether 21 participants (12M, 9F) actively participated in the training representing the government, private and Guthi-managed school.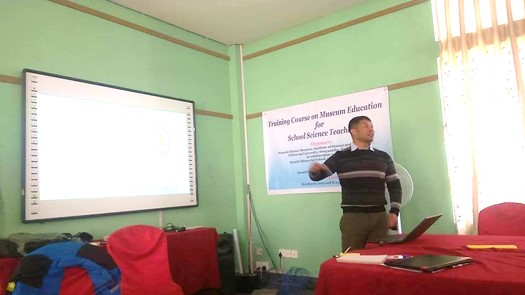 Short Report 21 (from Natural History Museum, Nepal, S. Maharjan)
(17 Mar., 2019)
Hope everything is going well. The some of the achievements on the 3rd week are as follows.
- Facilitation on the development plannign workshop of NHM on 16 March (as planned)
- Interaction with one of the contributors of NHM, Dr. Jp Shah, Associate Prof. and Researcher in Florida International University
- Review of the papers related to NHM (as planned)
- Reporting of the training
- Outline for the draft paper which was also discussed with the staff (as planned)
The NHM staff motivated with session on development plan as they have learned about the Strengths, Weaknesses, Opportunities and Challenges faced by NHM, Problem and Objective trees and Logical framework for the development plan in the workshop.

Short Report 22 (from Griffith University, Australia, K. Matsuyama)
(10 Mar., 2019)
I arrived at Australia at 4 March. After greeting to Geoff, who is my supervisor in Australia, I went shopping to get some food. In the evening, all residents in the same floor gathered at the shere room, so I introduced myself to them. In current, I was called Jack as nickname from them. I discussed my research contents with Geoff and research group members as scheduled.
Attached pictures are cake which I ate in the Singapore airport and the bird which I saw in the campus. It was my first culture shock in Australia.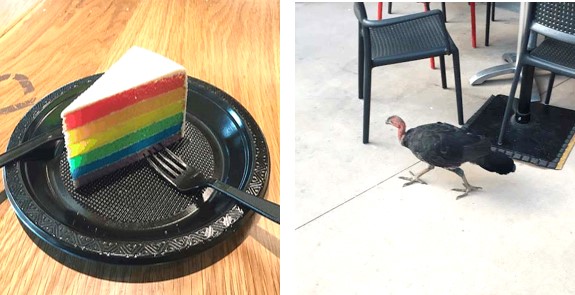 Short Report 23 (from Griffith University, Australia, K. Matsuyama)
(24 Mar., 2019)
In my works I did in the last week are divided into 2 parts. Firstly, I adjusted the laser path. For adjustment of laser path, I often did it when I was in Hiroshima, so there were no difficulties. When we discussed how to adjust it with students in the same room, they were surprised about my method because my method was not normal.
Secondarily, I investigated the response of photo detector. There were a lot of fine disorder, but I could deal with all of them until Friday. I think my experiment is doing well so far.
I write about what I usually eat. Students who were on the same floor said, " Jack is making a crazy dish as usual" and laughable to me. (Jack is my nickname in Australia). I have gotten used to be laughed like this yet, but my specialties are physics and dessert. Making cream mousse and mix fruits jelly for them, everyone surprised and called me dessert master Jack. The attached pictures are recent dinner and cream mousse.

Short Report 24 (from Sina Rang Lemulun Homestay, Malaysia, Y. Takeuchi)
(25 Mar., 2019)
This is Yasuka Takeuchi doing research on Kelabit language in Bario, Malaysia. I tried ro send this report last week, but intetnet here is not strong enough to reach you all...
I have already
- collected three to four texts
- collected example sentences with affixes
- had a presentation about their language at Bario Indigenous Village Sustainable Forum 2019
- had a simple lecture of Japanese introduction to the guides here
Now must add the analysis on the texts I have collected, and collect some more sentences.