Announcement of 7th Hiroshima Conference on Education and Science in Dentistry
Main Menu: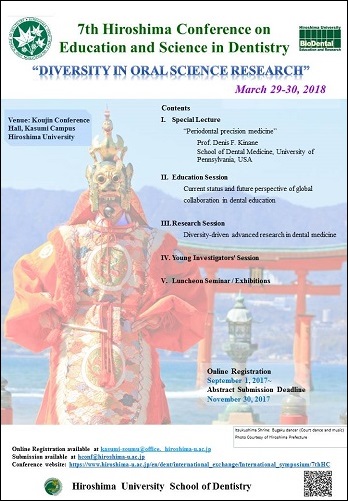 7th Hiroshima Conference Program
Hiroshima University School of Dentistry will hold "7th Hiroshima Conference on Education and Science in Dentistry" as the following schedule. The special theme for 7th HC is "Diversity in Oral Science Research".
We would like to warmly welcome those who are seeking great opportunities to present research works, exchange ideas on the latest dental medicine and oral health science, and facilitate international networks for scientific and academic collaborations.
We ask you to cover costs related to transportation and accommodation except for invited speakers. Instead, we will support travel expenses for young researchers who actively attend the conference and present their work in the format of posters and oral presentations.

➢ This site will be updated each time new information becomes available.
   Please check back regularly for release updates.

Dates
March 29 (Thurs)-30 (Fri) 2018
Venue
Koujin Conference Hall on Kasumi Campus, Hiroshima University
President
Prof. Koichi KATO, Dean, School of Dentistry, Hiroshima University (Dept. of Biomaterials, Graduate of Biomedical & Health Sciences)
Chairperson
Prof. Yuji YOSHIKO, Department of Calcified Tissue Biology, Graduate School of Biomedical & Health Sciences, Hiroshima University
Secretariat
General Affairs Group (School of Dentistry), Kasumi Campus Management Support Office, Hiroshima University 
Email: kasumi-soumu@office.hiroshima-u.ac.jp
Theme
"Diversity in Oral Science Research"
Contents
Special Lectures, Sessions, Poster Presentations and Exhibitions
Welcome Reception
Date : March 29 (Thurs)   Venue :  VIOLA Dining, Kasumi Campus Hiroshima University
Abstract Submission
September 1 ~ November 30  Extended to December 18  
Registration
Deadline for on-line registration is March 23 (Friday), 2018.