Procedure of the Program
■Qualification of Applicants
- Master and Doctor Students enrolled in graduate schools of Hiroshima University
- Have a strong interest on the problems faced by developing countries, or in cases concerning international cooperation
- Have outstanding personalities, and are mentally and physically healthy
- Have a sufficient level of foreign language skills for internship abroad
■Selection Process
Selection will be done based on submitted application documents and an interview. The selected students who fully participate in the program are given travel expenses. Some students might also receive financial support to cover part of accommodation fee.
Sandwich Education & Follow-up Education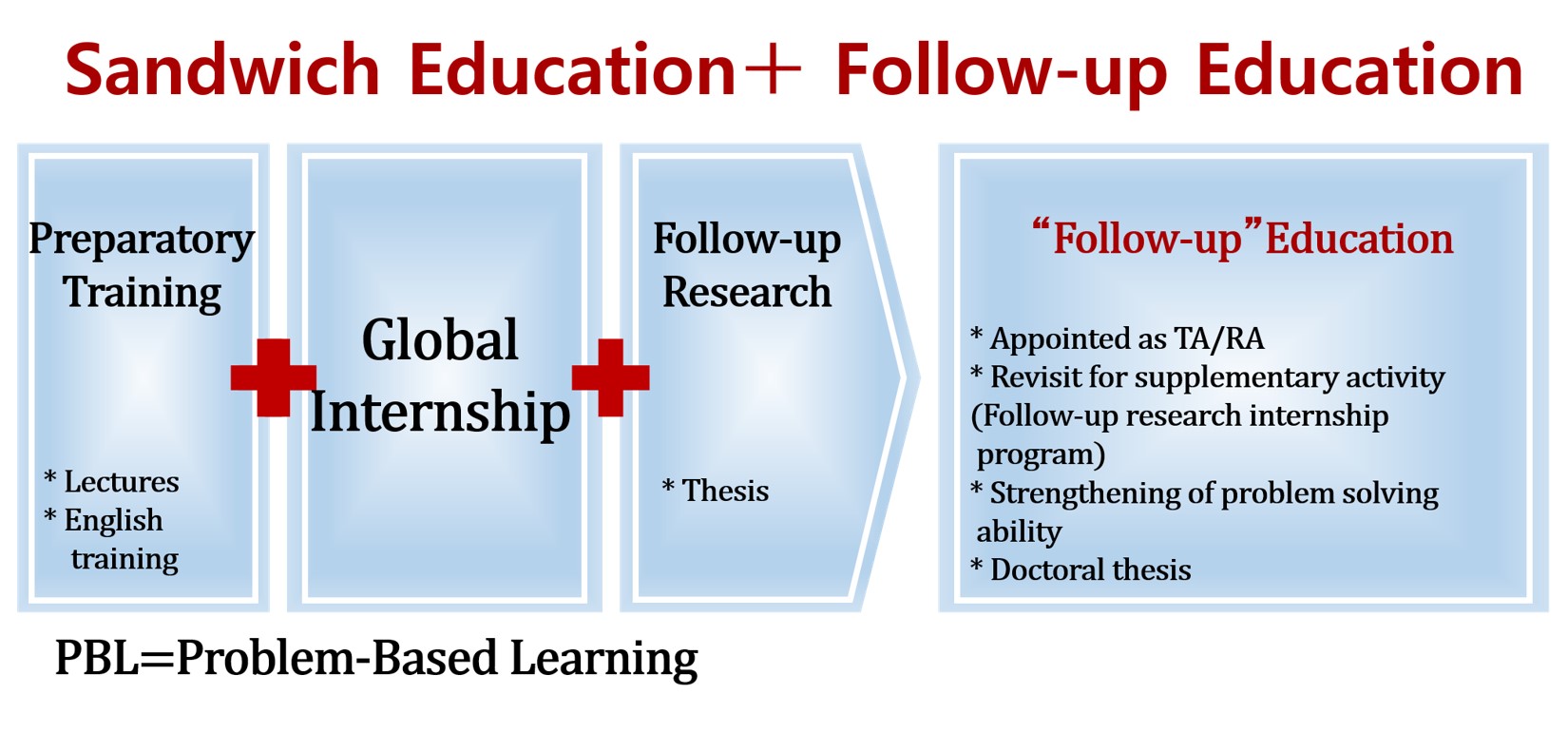 1. Preparatory Training
Comprehension of the program is solidified and preparation is undertaken. Along with general information relevant to international environmental studies, situational studies of developing countries, and living considerations, seminars in crisis management and security measures are held to further the preparations for life abroad. Through detailed studies of the actual activities anticipated at the internship site and English language presentations, preparation for overseas internship is completed.
2. Global Internship
The intern reports to the corporation or other organization abroad currently involved in actual international cooperation activities, where he or she responsibly performs the assigned tasks or research. Studies and research in areas that can be improved upon to the benefit of the assigned country are also undertaken.
3. Follow-on Research
After returning to Japan, the results and achievements of the internship are shared and discussed with the students who did not go abroad. Based on such discussions, detailed methods for improving international cooperation and for upgrading Japanese international cooperative efforts are provided to both the internship country and Hiroshima University.
4. Follow-up Education
The program now expands its opportunity to doctoral students for carrying out their follow-up research internship in the field/place where they have an internship experience previously.
Curriculum Model
1.Preparatory Training
 (*)PBL=Problem-Based Learning
2.Global Internship
3.Follow-up Education
-Post-Internship Presentation
-Master Thesis
-Case Writing(by G.ecbo/i-ECBO Program)
Risk Management
1.Risk Management Seminar
Before the internship, we conduct a risk management seminar to orient the students on the area to give information on how to avoid risks and be safe.
2. Travel Insurance
Intern students are required to enroll for an appropriate insurance plan before they start their internship.
3. Cost Coverint Insurance for Travel Accidents
Hiroshima Univeristy hase made a contract with TOKIO MRINE NICHIDO insurance company to cover the cost of emergency assistance for the students.