Research
The laboratory of Aquatic Ecosystem Management conducts various oceanic research and investigations on biogeochemical cycling in coastal seas as well as in open seas by means of oceanographic observations, laboratory experiments, and computer modeling and simulation.
1) Coastal ecosystems are quite complex, consisting water, sediments and variety of living organisms. Direct impact of human activities may cause several environmental issues in coastal areas. Integrating forests, rivers and rural areas in addition to coastal seas into one basin system is important to understand the mechanisms occurring in coastal ecosystems. We carry out fieldworks to collect data with university students and with citizens and NPOs as well. Based upon the scientific results obtained from the quantitative analyses on material cycles in total basin systems, we propose practical restoration measures to local/central governments. Our activities are contributing not only to the education of university students but also to decision makings on environmental issues by governors.(Yamamoto T)
Go to the HP of Center for Restoration of Basin Ecosystem and Environment
2) I investigate the material circulation system and the lower trophic level ecosystem in the coastal seas by computer data analysis, numerical ecosystem model and field observations on board research vessels. I conduct comprehensive ecological studies on coastal seas to maintain healthy marine environments and sustainable fishery production. Main study field are Hiroshima Bay and Seto Inland sea including sea grass beds and tidal flats. Other research themes are the analysis of satellite sea color image and the diffusion simulation of suspended matter. (Hashimoto T)
Keywords
River-basin system,Material cycling,Ecosystem model,Restoration of water and sediment quality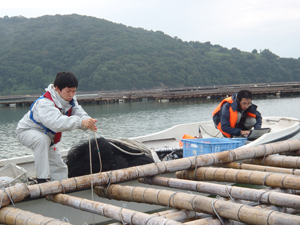 Oyster growth enhancement experiments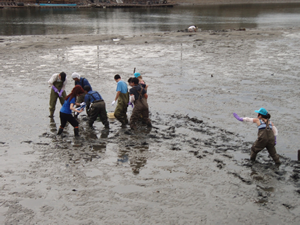 International students joined the observation of a tidal flat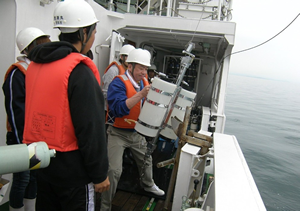 Field observation by training vessel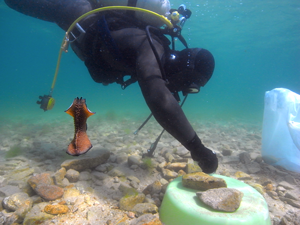 Observation of submarine groundwater discharge

Recent Publications
Ryu, S. H., S. Nakashita, I. C. Lee, D. S. Kim, J. R. Kim, T. Hibino, T. Yamamoto, S. Asaoka and K. H. Kim: A pilot study on remediation of muddy tidal flat using porous pile. Mar. Poll. Bull., 114, 837-842 (2017).
Yamamoto, T., T. Kishigami and H. Nakagawa: Uptake kinetics of nitrate, ammonia and phosphate by the dinoflagellate Heterocapsa circularisquama isolated from Hiroshima Bay, Japan. Phycol. Res., 65(4), 333-339 (2017). doi: 10.1111/pre.12193
Yamamoto, T., S. Ishida, S. Nakahara, K. Hiraoka, Y. Omichi and H. Mutsuda: Fertilizer application to enhance the growth of raft-cultured oysters. Proceedings of the JSFS 85th Anniversary-Commemorative International Symposium "Fisheries Science for Future Generations", No. 05001, 2 pp. (2017).
Alam, J. F., T. Yamamoto, H. Nakamura, T. Umino, S. Nakahara, K. Hiraoka and H. Ohtoshi: Creation of fish habitats with thinning timbers in Mitsu Bay - a case study of ICZM. Proceedings of the JSFS 85th Anniversary-Commemorative International Symposium "Fisheries Science for Future Generations", No. 05002, 2 pp. (2017).
Hashimoto T. and H. Takeoka (1998): Analysis of primary production in the Seto Inland Sea, Japan, using a simple ecosystem model. J. Oceanography, 54, 123-132.
staff