Research
The laboratory of Aquatic Ecosystem Management conducts various oceanic research and investigations on biogeochemical cycling in coastal seas as well as in open seas by means of oceanographic observations, laboratory experiments, and computer modeling and simulation.
1) I investigate the material circulation system and the lower trophic level ecosystem in the coastal seas by computer data analysis, numerical ecosystem model and field observations on board research vessels. I conduct comprehensive ecological studies on coastal seas to maintain healthy marine environments and sustainable fishery production. Main study field are Hiroshima Bay and Seto Inland sea including sea grass beds and tidal flats. Other research themes are the analysis of satellite sea color image and the diffusion simulation of suspended matter. (Hashimoto T)
Keywords
River-basin system,Material cycling,Ecosystem model,Restoration of water and sediment quality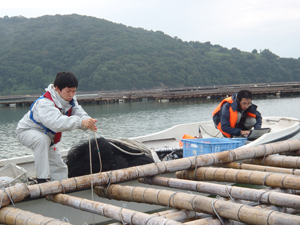 Oyster growth enhancement experiments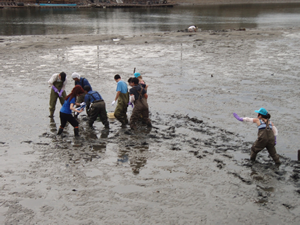 International students joined the observation of a tidal flat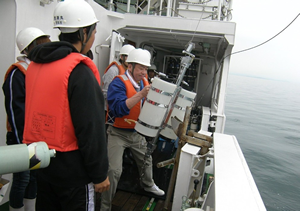 Field observation by training vessel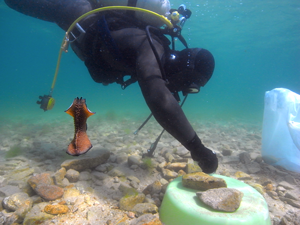 Observation of submarine groundwater discharge

Recent Publications
Hashimoto T. and H. Takeoka (1998): Analysis of primary production in the Seto Inland Sea, Japan, using a simple ecosystem model. J. Oceanography, 54, 123-132.
staff