Research
Root-secreted compounds have impacts on soil nutrient dynamics and plant-microbial interactions in the rhizosphere. In order to understand a microcosmic biosphere "the rhizosphere," we are studying both functions of microbes and plants and their interactions.
1) Study on functions of root-secreted compounds and microorganisms involved in P dynamics in soils (Wasaki, J.)
Keywords
Rhizosphere, Plant-microbial interaction, Root exudates, Phosphorus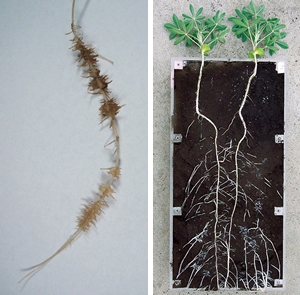 right) Lupine plants which can grow well under low P condition.
left) Cluster root formed by lupin plants to enhance P acquisition.
Recent Publications
Eida, M.F., Nagaoka, T., Wasaki, J., Kouno, K. 2013. Phytate degradation by fungi and bacteria that inhabit sawdust and coffee residue composts. Microbes and Environments, 28(1), 71-80.
Dissanayaka, D.M.S.B., Maruyama, H., Masuda, G., Wasaki, J. 2015. Interspecific facilitation of P acquisition in the intercropping of maize with white lupin in two contrasting soils as influenced by different rates and forms of P supply. Plant and Soil, 390(1), 223-236.
Wasaki, J., Taguchi, H., Senoura, T., Akasaka, H., Watanabe, J., Kawaguchi, K., Komata, Y., Hanashiro, K., Ito, S. 2015. Identification and distribution of cellobiose 2-epimerase genes by a PCR-based metagenomic approach. Applied Microbiology and Biotechnology, 99(10)4287-4295.
Dissanayaka, D.M.S.B., Maruyama, H., Nishida, S., Tawaraya, K., Wasaki, J. 2017. Landrace of Japonica rice, Akamai exhibits enhanced root growth and efficient leaf phosphorus remobilization in response to limited phosphorus availability. Plant and Soil, 414(1-2), 327-338.
staff