Research
Our laboratory investigates how plants grow and develop in response to environmental factors examined from various facets of plant structure and function.
Keywords
Mineral nutrition, Rhizosphere, Secondary metabolite, Mitochondria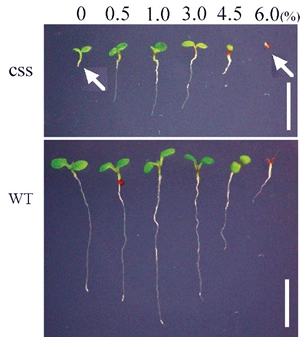 Mutant (css) seedlings with altered cell wall and abnormal sucrose sensitivity (indicated by arrows) developed in our laboratory
Recent Publications
Dissanayaka, D.M.S.B., Maruyama, H., Masuda, G., Wasaki, J. 2015. Interspecific facilitation of P acquisition in the intercropping of maize with white lupin in two contrasting soils as influenced by different rates and forms of P supply. Plant and Soil, 390(1), 223-236.
Dissanayaka, D.M.S.B., Maruyama, H., Nishida, S., Tawaraya, K., Wasaki, J. 2017. Landrace of Japonica rice, Akamai exhibits enhanced root growth and efficient leaf phosphorus remobilization in response to limited phosphorus availability. Plant and Soil, 414(1-2), 327-338.
Nishida, S., Dissanayaka, D.M.S.B., Honda, S., Tateishi, Y., Chuba, M., Maruyama, H., Tawaraya, K., Wasaki, J. Identification of genomic regions associated with low phosphorus tolerance in japonica rice (Oryza sativa L.) by QTL-Seq. Soil Science and Plant Nutrition, (in press).
Dissanayaka, D.M.S.B., Plaxton, W.C., Lambers, H., Siebers, M., Marambe, B., Wasaki, J. Molecular mechanisms underpinning phosphorus-use efficiency in rice. Plant, Cell and Environment, (in press).
Li, X.J., Nakagawa, N. and Sakurai, N. (2008) Purification and biochemical characterization of cell wall-bound trehalase from pericarp tissues of Actinidia deliciosa. Journal of the Japanese Society for Horticultural Science, 77(3), 229-235.
staff