From Study Abroad Stay to Second Home
Voice of Rachel Nicholson
[Posted in October of 2016 ]
My name is Rachel Nicholson, I've been living in Japan for 9 years now, and I am a former Hiroshima University Study Abroad Program student.
I currently own a small restaurant in Hiroshima City with my Japanese husband. I'm in charge of making cakes and cookies and various baked goods, as well as drinks and curry, while my husband mans the kitchen. Every day brings something new, but the reason that I decided to open a restaurant here and not in the US is almost entirely because of my time spent abroad at Hiroshima University, as well as the time I spent working there.
While I studied abroad almost 10 years ago, the friends that I made during that short year are some of my best friends and we still email and talk on Facebook and keep in touch with each other. Some live as close as Indonesia or the Philippines, others as far as Austria, but the time we spent together on our journey in Japan forged strong friendships that last today. I watched them get married, have kids, and share the good and bad in their lives. I can't wait for the day when we can have a HUSA reunion.
I was also given the opportunity to work part time as a translator at Hiroshima University during my study abroad. It was my first experience with translation so it was a little overwhelming at first, but gradually that overwhelming feeling melted away into confidence, and if it wasn't for that part time job, I'm almost 100% sure I wouldn't be in Hiroshima today. The part time job, coupled with my Japanese classes at the university gave me a confident grasp of Japanese, and by the time it was time to go back to the States, I was thinking in Japanese.
It was also my first experience living abroad which was sort of scary and daunting at first, but the university staff was super supportive and I had very little trouble adjusting to life in Saijo. The weather and climate here is very similar to my home in Maryland, right down to the flowers that bloom year round, which was a surprise. I'm also a huge fan of Japanese dialects, so you can imagine how excited I was to hear Hiroshima dialect spoken everyday! The entire year just cemented my love for Hiroshima and I kept thinking how nice it would be to live here one day (little did I know that's would happen not one year later).
After I went back to the States, I graduated from the University of Maryland with a bachelors in Japanese Language and Studies, and I returned to Hiroshima to work as a translator for the same office at Hiroshima University, using all the tricks and tips that I had picked up during my time abroad. The support for me from the university remained the same—they helped me find an apartment and get settled, for which I am so, so grateful. Their kindness only made me fall more and more in love with Hiroshima and her people, and spurred my decision to move here permanently.
And now here I am, speaking Hiroshima dialect and living my life in my adopted homeland with my husband and three adorable cats. Doesn't get any better.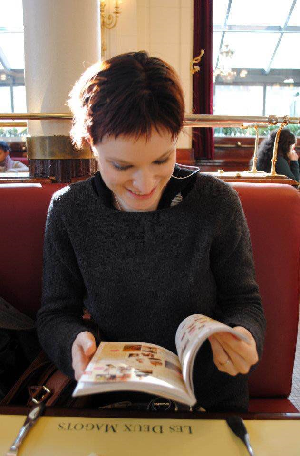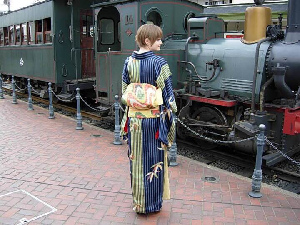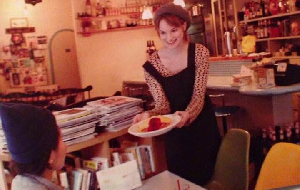 Profile: Rachel Nicholson (USA)
Former Hiroshima University Affiliation:
Hiroshima University Study Abroad Program(HUSA)
Year: 2005-2006
Present: Restaurant Owner