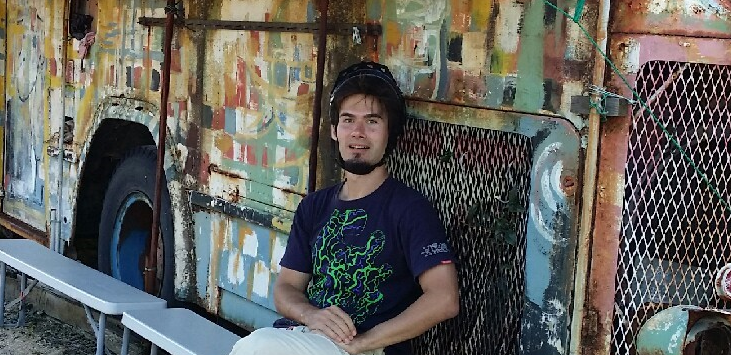 Sometimes They Come Back
Voice of Dmitry Mamchur
[November 2016]

Hello-hello, my name is Dmitry and I love riding a bicycle. Steadily sliding through the landscape, having just enough time to absorb little details: crow with a half-open beak perched on top of a utility pole; dragonfly that keeps up for a few moments, then flitters away; discarded onigiri wrapping pushed around by the wind…
Needless to say, I'm a bit distracted while riding. Most of the other time as well! A year as a HUSA student in Hiroshima university presented me with countless opportunities for all sorts of wonderful distractions (which were gratefully accepted). Then it presented me with a career path.
My major is computer science. As soon as I realized "wizard" is a somewhat impossible job to pull of in this world, I've settled on the next best (and most wizard-like!) thing - I decided to write programs. Games, in turn, are surely among the best and the most magical programs ever created, while also happening to constitute a lion share of my free time activities. The importance of Japan in the game industry being hard to overestimate, and with my upgraded Japanese abilities, I decided to try my luck with job hunting here first.
This decision has eventually led me to a certain game publisher with history going back to the third generation consoles from 1980s. They are based right next to Hiroshima University as well.
Nowadays our company is mainly mobile-oriented, with a handful of jRPG and adventure games being released on consoles. We collaborate with a number of developer companies across Japan to produce the games we think provide plenty of quality distraction from the woes of everyday life.
Being a software engineer, my job is to work closely with project managers, game designers and artists to pack everyone's efforts into a neat product - a finished game. Or take someone else's game and integrate all sorts of third-party libraries, or to prepare it for release on digital distribution platforms, or something entirely new! There is a lot of challenge and quite a bit of creative freedom involved, and I do enjoy it so.
Working in a Japanese company is not without its quirks (extensive office cleaning before the New Year being one), but staying open-minded and going with the flow can lead to some pretty amazing experiences. I remember that one time we went for a lunch in a ramen shop in Kure, and every single customer, including us four, was wearing a suit. So a room full of sharp-looking people slurping noodles like there is no tomorrow - pretty mind-blowing until you get used to it. Or when we traveled to America for a game show and drove everywhere in an enormous rented car which was darker than night and had tinted windows, like some sort of organized crime folks from the movies. Fun times!
I ride my bicycle almost every day just like five years ago, the sky is still huge, the crows are curious and loud as ever.
Yet Hiroshima university changed my life so much it's hard to think of the alternative. It gave me people I still keep in touch with, an occupation, an opportunity to live in Japan and a truly priceless option to have okonomiyaki whenever I want.
Looking forward to another October here with Sake festival and Shimanami Kaido bicycle trip coming up!
(This essay was contributed in September 2016.)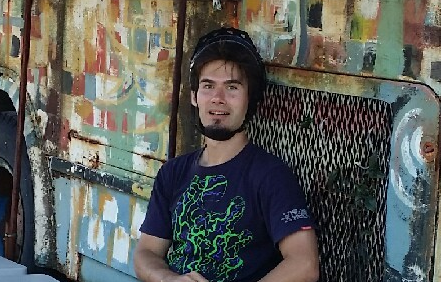 Shimanami Kaido bicycle trip, 2014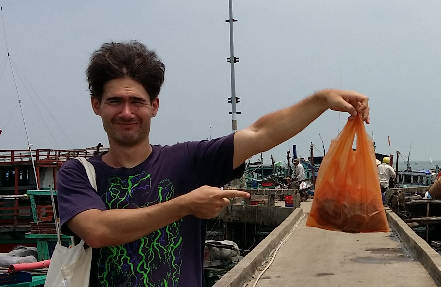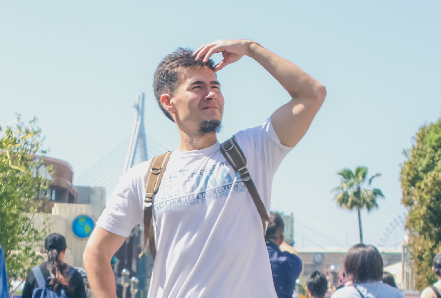 Universal Studios Japan (USJ), 2016
Profile: Dmitry Mamchur
Former Hiroshima University Affiliation: Graduate School of Engineering,
Hiroshima University Study Abroad Program (HUSA)
Year:2011-2012
Present: Software engineer