Hepato-Biliary-Pancreatic Surgery
Introduction of department
Overview
Hiroshima University Hospital is one of the largest and most experienced surgical practices in the Western part of Japan. Doctors in the division of Hepato-Biliary-Pancreatic Surgery at Hiroshima University Hospital specialize in the prevention, diagnosis and treatment of disorders of the liver, biliary tract, and pancreas.
Hiroshima University Hospital has the expertise and experience to fight Hepato-Biliary-Pancreatic cancer on all fronts. Using the latest, most advanced therapies, our surgical team personalize patient's care to ensure the most advanced treatment with the least impact on patient's body.
Our Treatment Approach
The surgical techniques to treat Hepato-Biliary-Pancreatic cancer are extremely complex. The surgeon must have a high degree of experience and skill to be successful. Frequently, treatment for Hepato-Biliary-Pancreatic cancer requires more than one type of therapy. Hepato-Biliary-Pancreatic surgeons and gastroenterology professionals trained in many medical specialties work together as a team to ensure patient's favorable outcomes.
Services
Specialists in hepatology and pancreatology at Hiroshima University Hospital treat people with diseases and disorders of the liver, biliary tract and pancreas. Hiroshima University Hospital Hepato-Biliary-Pancreatic surgeons treat the following conditions and offer the following services. Please confirm when you request an appointment.
・Diseases of the pancreas, including pancreatic cancer, intraductal papillary mucinous neoplasms (IPMN), mucinous cystic neoplasm (MCN), serous cystic neoplasms (SCN), and solid-pseudopapillary neoplasm (SPN), pancreatic neuroendocrine tumor (PNET), acute and chronic pancreatitis, autoimmune pancreatitis, hereditary pancreatitis, tumor in the periampullary resions, duodenal cancer and postoperative care.
・Hepatobiliary disease, including bile duct cancer, cystic neoplasms of the bile duct, tumor in the periampullary resions, primary hepatolithiasis, cholelithiasis, choledocal dilatation with and without pancreaticobiliary maljunction and postoperative care
・Chemo- and chemoradiotherapy for pancreatic cancer or advanced bile duct cancer and other gastrointestinal cancer
・State-of-the-art testing for pancreatic function disorders, such as chronic pancreatitis, including radionuclide exocrine function tests, and glucagon tolerance tests for endocrine pancreatic function
Our Faculties & Members
Patient Resources
Request an appointment
For more information on surgeons and services at Hiroshima University Hospital, please contact the Appointment Center at 082-257-5555 (main phone). Staff is available Monday to Friday, 8:30 am to 5 pm to assist you.
Resources for Physicians
To refer a patient:
Contact the Appointment Center at 082-257-5555 (main phone) or 082-257-5468 (direct call) from 8:30 am to 5 pm, Monday through Friday. After business hours, contact the emergency outpatient unit service at 082-257-5092 (direct call).
Hepato-Biliary-Pancreatic staff and doctors are happy to work with doctors outside of Hiroshima University Hospital
Research content
Research
Hiroshima University Hospital recognizes that high-quality care depends upon scientific discovery. Therefore, major research programs at the basic, applied and translational levels exist to generate knowledge that ultimately benefits Hiroshima University Hospital patients.
The national scientific research funds numerous Hepato-Biliary-Pancreatic research projects at Hiroshima University Hospital. This cooperation helps create an environment for cutting-edge research in which Hiroshima University's scientists and physicians produce original research articles that are published in numerous peer-reviewed journals. Research conducted at Hiroshima University has produced new treatments of pancreatic and hepatobiliary diseases, new basic technology to identify and treat cancers in this particular regions.
・Clinical trials
Hiroshima University Hospital researchers are actively involved in studies to evaluate potential treatments (clinical trials) for many liver, biliary tract, and pancreatic conditions. There are currently over 10 active clinical research projects ongoing including investigator-initiated, industry sponsored, and through national organizations. You may have the opportunity to participate in clinical trials.

・Basic Science
Active research laboratories cover a wide variety of basic and translational research areas:
- Pancreas cancer carcinogenesis and novel therapies (Dr. Murakami)
- Biliary tract carcinogenesis and novel therapies (Dr. Murakami)
- Cancer epigenetics (Dr. Uemura)
- Immunomodulation in cancer (Dr. Uemura)
- Acute pancreatitis pathogenesis (Dr. Uemura)
- Pathogenesis of cystic neoplasms of the pancreas, IPMN (Dr. Hashimoto)
- Normal pancreatic tissue database (Dr. Hashimoto)
- Chemoresistances and chemotherapy delivery (Dr. Kondo)
- Pancreatic function disorders (Dr. Kondo)
Residency and General Surgery Fellowships
Residents rotate at Hiroshima University Hospital and have elective time at divisions of gastrointestinal surgery as well as pediatric and/or cardiovascular surgery elective available at other surgical divisions. Each division provides a distinct clinical environment resulting in a tremendous variety of patients and clinical material for learning. General Surgery faculty run Morbidity & Mortality Conference as well as weekly operations conference and multidisciplinary conference, lead many teaching conferences, participate in professors' rounds, and run the surgical skills lab.
Fellowship programs in Hepato-Biliary-Pancreatic Surgery include a wide variety of basic and translational research projects available for interested residents and students. In 2014, Hepato-Biliary-Pancreatic Surgery has 9 hepato-biliary-pancreatic fellows (2 clinical and 7 basic) to facilitate clinical research on campus.
Treatment achievements
Hepato-Biliary-Pancreatic Operation
Hiroshima University Hospital has treated a significantly higher number of pancreas cancer patients and bile duct cancer patients compared to other high-volume medical institutions in the Western Japan.
Four faculty members maintain clinical practices and perform high volumes of complex operations using the latest technology and innovative procedures. Annually, our faculty members perform more than 100 pancreatic operations and more than 50 hepatobiliary operations. Hiroshima University Hospital resources include the latest in minimally invasive laparoscopic equipment and techniques (Figure 1).
This vast amount of experience treating hepatobiliary cancer and pancreas cancer allows patients to rely on Hiroshima University Hospital's Hepato-Biliary-Pancreatic cancer team for the highest quality of care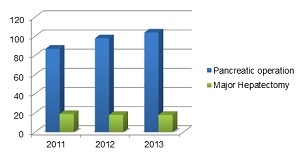 Figure 1. Volume of Pancreatic Operation and Major Hepatectomy Cases by Year
Pancreatic Cancer
Hiroshima University Hospital is one of the premier medical centers for the treatment of pancreatic cancer. Our team of experts carefully create personalized care plans for every patient and are committed to using the latest, most innovative and advanced therapies to treat pancreas cancer. Multidisciplinary specialists focus on the diagnosis and treatment of pancreas cancer.
The prognosis for pancreatic carcinoma remains dismal. The chance of recovery (prognosis) and the treatment options depend on many things – whether the tumor can be removed by surgery, the stage of the cancer, the patient's general health, and whether the cancer has just been diagnosed or has recurred.
Approximately 80% of the patients who diagnosed as pancreatic cancer are of unresectable and the overall 5-year survival rate is less than 10%. For the subpolulation of patients who have resectable tumors, the 5-year survival rate after complete tumor resection has been reported to be less than 20%.
Several multicenter randomized controlled studies (ESPAC-1 or -3, CONKO-001) presented that adjuvant chemotherapy using gemcitabine or fluorouracil plus folinic acid significantly improved overall survival of patients with pancreatic cancer after surgical resection, compared with surgical alone.
In 2002, our division implemented adjuvant chemotherapy using gemcitabine based chemotherapy for patients who underwent surgical resection of pancreatic cancer, and now expanded more patients initially diagnosed as "borderline" or "unresectable".
In 2013, our faculty members reported the survival benefit of this adjuvant chemotherapy (Figure 2). Disease-free survival rates for over 100 patients who underwent adjuvant chemotherapy following surgery were 65 % at 1-year, 52 % at 2-years, and 39 % at 5-years with median disease-free survival time was 24.8 months (Murakami Y, Cancer Chemother Pharmacol 2013).
Our institutional policy is that adjuvant chemotherapy commences as soon as practical after patient recovery and our surgical team pursue prevention of postoperative complication to enable early initiation of adjuvant chemotherapy. The Hepato-Biliary-Pancreatic surgeons at Hiroshima University Hospital specialize in novel treatments for pancreatic cancer. They are attempting to improve outcomes with new treatment strategies incorporating results from our research program into the clinical realm. They are actively testing new agents in clinical trials to improve outcomes and patient survival.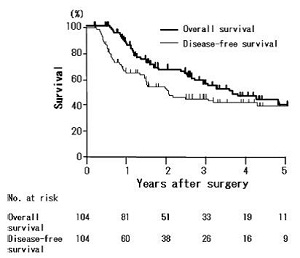 Figure 2. Overall and disease free survival curves of patients who received adjuvant gemcitabine based chemotherapy after surgical resection for pancreatic carcinoma (Kaplan-Meier method). Disease-free survival rates for over 100 patients who had postoperative adjuvant chemotherapy were 65 % at 1-year, 52 % at 2-years, and 39 % at 5-years with median disease-free survival time was 24.8 months.
Murakami Y, Cancer Chemother Pharmacol 2013
Bile Duct Cancer (Cholangiocarcinoma)
Bile duct cancer, including carcinoma of the intrahepatic, hilar, distal and gallbladder, is a relatively uncommon malignancy in the United States and Europe, but in Japan, bile duct cancer is the sixth leading cause of all malignancies, and is responsible for more than 20,000 estimated deaths per year in Japan.
Prognosis depends on how early the cancer is caught, the patient's overall health and how well the liver and ducts are functioning. Overall 5-year survival rates of patients with bilie duct cancer, including patients with resectable and unresectable tumors, have been reported to be 20% in Japan. Treatment varies depending on how far the cancer has advanced and the size of the tumor. It may include surgery, chemotherapy, radiation or other treatments
Ground breaking Research
Our faculty member have pioneered several advances in bile duct cancer, including:
・Adjuvant chemotherapy (given after surgery), gemcitabine, which now is standard treatment around the world
・Neoadjuvant chemotherapy (given before surgery) to shrink the tumor and allow it to be removed surgically with less damage to normal tissue.
・Treatment plan tailored to chemosensitivities
In 2002, our faculty members administrated adjuvant gemcitabine-based chemotherapy for patients with bile duct cancer after surgical resection and reported the promising survival benefit in the patients after postoperative adjuvant chemotherapy (Figure 3).
Survival rate for 98 patients who underwent postoperative adjuvant chemotherapy were 47 % at 5-year with median overall survival time was 49.6 months, which is significantly longer compared with patients who did not undergo postoperative adjuvant chemotherapy.
If surgery is possible, our approach to bile duct cancer as well as pancreatic cancer usually is to complete chemotherapy before surgery particularly in patients with advanced stage. This method increases chances the tumor can be removed completely, helps chemotherapy be more effective, and makes for better recovery.
Hiroshima University Hospital is leading research into ways to treat and prevent Hepato-Biliary-Pancreatic cancer. This means Hiroshima University Hospital is able to offer a wide range of clinical trials for new treatment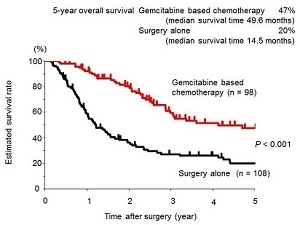 Figure 3. Survival rate for 98 patients who had postoperative adjuvant chemotherapy were 47 % at 5-year with median overall survival time was 49.6 months, which is significantly longer compared with patients who did not undergo postoperative adjuvant chemotherapy.
Publications
See a list of publications on Hepato-Biliary-Pancreatic topics by Hiroshima University Hospital authors on PubMed, a service of the National Library of Medicine.
Lower gastrointestinal tract
Introduction of department
The physicians in the Division of Colon and Rectal Surgery specialize in the surgical treatment of disorders involving the colon, rectum, anus, and small intestine. Furthermore, the Division physicians treat benign and malignant conditions and perform routine screening examinations. Additionally, we work closely with gastroenterology colleagues, as well as other specialists, to ensure that patients receive the most comprehensive, innovative, and supportive care.
The Division of Colon and Rectal Surgery performs more than 200 operations each year. Approximately one-half of the surgeries involve inflammatory bowel disease (IBD; ulcerative colitis and Crohn's disease); thus our Division is one of the premier surgical centers for IBD in Japan.
The Division utilizes a multidisciplinary approach for colon and rectal cancers to achieve better clinical outcomes. For locally advanced rectal cancer, we offer neoadjuvant chemoradiotherapy, when indicated. Surgeries are most often performed using minimally invasive (laparoscopic) techniques, which have many benefits, including less blood loss and trauma, a shorter hospital stay, and a more rapid recovery, than conventional surgery.
Additionally, the Division offers a variety of physiologic tests and procedures, including anorectal manometry, defecography, and biofeedback to treat fecal incontinence, constipation, and a variety of pelvic floor disorders. Another innovative modality, sacral nerve modulation therapy, was approved in Japan in the spring of 2014 as a treatment for fecal incontinence.
Esophageal Surgery
Introduction of department
Our team is experienced in the treatment of all esophageal diseases. We offer a full range of surgical, minimally invasive as well as multimodality treatment to meet the conditions and needs of individual patients with esophageal diseases.
Esophageal cancer
Esophageal GIST (Gastrointestinal stromal tumor)
Gastroesophageal reflux disease (GERD)
Achalasia
Esophageal perforation
Research content
Number of new esophageal cancer patients in our department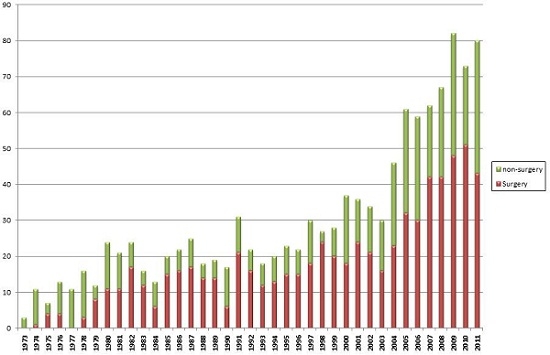 Treatment achievements
Minimally invasive surgery for esophageal cancer
We usually perform thoracoscopic esophageal surgery in the prone position with five-port technique.
Furthermore, we perform hand assisted laparoscopic surgery for abdominal part.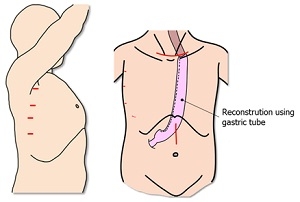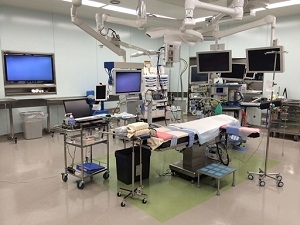 Multimodality treatment for esophageal cancer
Based on the results of clinical trials, we have introduced multimodality therapy consisted of preoperative chemotherapy or chemoradiotherapy followed by surgery to improve the survival for advanced stage esophageal cancer.

Gastroenterological Surgery
Introduction of department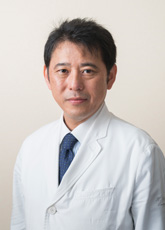 Prof. Hideki Ohdan
Director, Gastroenterological Surgery
Our department has treated diseases of the digestive tract, chest, peripheral vessels, endocrine system, as well as a broad range of other diseases, which is consistent with the slogan "from head to toe." However, a recent medical complication requires the acquisition of advanced technology that may inhibit medical improvement if we try to cover all fields. Therefore, we will now specialize in treating various diseases of the abdominal organs such as the stomach, small intestine, large intestine, liver, biliary tract, and pancreas, as well as perform liver, kidney and pancreas transplant procedures. To provide the best medical treatment for patients, we have four groups of experts working on the upper and lower gastrointestinal tracts, hepato-biliary-pancreatic systems, and in transplantation. Each group works hard as a unit to promote medical examination, research, and education. Some common concepts that describe our department include "traditional succession," "changes that focuses on environmental adaptation," and "development of medical treatments for the next-generation."
All surgeons must aim for the most minimally invasive techniques available for all operations to minimize complications and prevent the relapse of the primary diseases. To perform the ideal surgical operation, it is important to receive the necessary training under the appropriate educational system that provides the organization's basis for obtaining knowledge, discernment, ideas, and technology. We provide this kind of training system to support young and senior surgeons.
Occasionally, great ideas are born from a difficult clinical situation. Our department aims to train surgeon scientists/academic surgeons who can link new discoveries with ideas for developing new medical treatments while also sympathizing with their patient's pain.
We believe in research that takes patient treatments "from the bench to the bedside."
Main topics in basic and clinical research are as follows:
Identification and performance analysis of a high malignant alteration factor in stomach cancer
Research on HER2 positivity in stomach cancer
Examining the influence of a fast stimulus on the natural immunity response
Research on the colonization of the intestinal tract by the periodontosis bacillus in a post-gastric resection patient
Research on the effects of carbon dioxide on the peritoneum and on cancer cells
Establishment of a new animal model and the identification of related genes involved in the invasion and metastasis of colorectal cancer
Identification of a new medical treatment target molecule using an invasive colorectal cancer mouse model
Development of a new anti-tumor regimen for metastasis of colorectal cancer
Determine the mechanisms of adhesion control in laparoscopy
A new training curriculum for developing technology for endoscopic surgery
Research on the obstacles to reperfusion in liver ischemia (especially in a fatty liver)
Development of an absorptive bile duct stent
Research on medical treatment strategies for colorectal cancer with hepatic metastasis
Research on the mechanisms of invasion in cancer metastasis
Assessment of immunity after organ transplantation
Immunotherapy against hepatocellular carcinoma after liver transplantation
Trials on the control of postoperative hepatitis recurrence after liver transplantation
Successful ABO incompatible transplantation
Research on immunosuppressant withdrawal methods
Control of macrophage-related rejection in xeno-transplantation
The improvement in pancreatic-islet-transplantation by suppression of liver immunity