Introduction of department
The aims of the Department of Cardiovascular Medicine are;
to bring up superb physicians in cardiovascular medicine,
to provide clinical evidence in cardiovascular medicine from Hiroshima area, and
to promote translational researches for the prevention of cardiovascular diseases.
We are open and cordially welcome anybody who wants to be an excellent and fully-trained cardiovascular physician.
Research content
Arrhythmia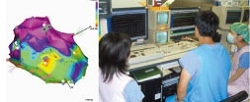 We diagnose origins of arrhythmias and perform the appropriate treatments: radiofrequency catheter ablation for tachyarrhythmias, pacemaker for bradyarrhythmias, ICD implantation for fatal arrhythmias (i,e, Brugada syndrome) and CRT for severe heart failure. Our session is going to be one of representative arrhythmia centers in Chugoku-Shikoku area.
Peripheral Artery Disease and Regenerative Medicine:

Therapeutic angiogenesis with bone-marrow mononuclear cell implantation is performed for patients with severe peripheral artery diseases, which is approved as an advanced medical technology in Hiroshima University.
Coronary Computed Tomography Angiography:

Using multi-detector computed tomography (MDCT), a whole heart can be scanned during a few seconds breath-hold on an outpatient basis. MDCT-coronary angiography can detect stenoses and plaques. The information is useful to decide on treatment strategies. We also evaluate the mechanism of coronary atherosclerosis, which will be useful to predict and prevent the development of acute coronary syndrome.
Percutaneous Coronary Intervention:

Coronary care team consists of highly-trained cardiologists. We perform coronary interventions. We also treat acute coronary syndromes in cooperation with the emergency department.
Treatment achievements
|   | Examination and Therapy | Number (year 2016) |
| --- | --- | --- |
| 1 | Echocardiography | 5,239 |
| 2 | Stress echocardiography | 228 |
| 3 | Transesophageal echocardiography | 189 |
| 4 | Treadmill ECG | 347 |
| 5 | Cardiopulmonary exercise test | 430 |
| 6 | Myocardial scintigraphy (SPECT) | 448 |
| 7 | Coronary CT angiography | 693 |
| 8 | Right-side heart catheter examination | 313 |
| 9 | Left-side heart catheter examination | 508 |
| 10 | Percutaneous coronary intervention | 195 |
| 11 | Percutaneous peripheral intervention (including renal artery) | 24 |
| 12 | Catheter ablation | 333 |
| 13 | Pacemaker implantation | 56 |
| 14 | Implantable Cardioverter Defibrillator | 33 |
| 15 | Cardiac resynchronization therapy | 16 |
| 16 | Cardiac rehabilitation | 7,611 |
| 17 | Vascular regenerative therapy | (68 between 2002 and 2016) |