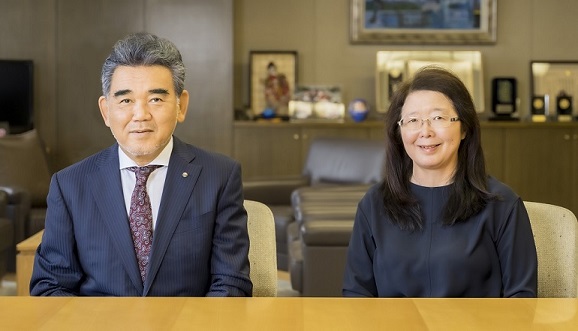 Message from the Chief Executive Manager                                            OCHI Mitsuo - President, Hiroshima University
While Japan is facing global crises such as the COVID-19 pandemic and climate change as a result of global warming, it has also been dealing with other domestic issues including the major decrease in the population caused by a low birthrate and aging population. What is more, the societal situation surrounding the nation and every university is seeing rapid and substantial changes almost day by day, leaving us with an increasing sense of anxiety.
Under such circumstances, what is expected of universities in the world is to implement future-oriented reforms that leave enough room for future development, and to identify and play the roles that can be only undertaken by universities as an intellectual capital where all knowledge across academic disciplines, national/international borders and generations is consolidated.
Meanwhile, the data regarding the research capabilities of Japan shows a decline in the number of its researchers who take up new research fields that are currently drawing international attention. At the same time, Japan has seen a significant drop in numbers of its international share of academic papers among other countries. What is also concerning is the fact that the number of Japanese youth who aspire to become a researcher has been declining in recent years. In order to enhance its research capabilities, Japan urgently needs to establish attractive research environments for well-motivated young researchers, to develop them to engage in active roles in the world as world-class researchers in the future.
In light of such circumstances, four national universities in the Chugoku and Shikoku regions in Japan have come together to form the HIRAKU-Global Consortium, with the aim of developing talented early career researchers to possess an independent and innovative mindset, who will subsequently become world-leading researchers. The Consortium will act as a facilitator to young researchers from the four universities so that they can build up a rich network where the researchers can inspire each other across the institutions and/or the disciplines of their specialized fields. What is more, the researchers are given opportunities to enhance their research capabilities at overseas institutions. Not to mention, that the Consortium shall provide systematic and structured support to the researchers concerned so that their management skills in, for example research projects, can be improved, while enhancing their presence in international collaborative research.
Through this initiative, we intend to achieve the following: i) to show that being a researcher is an attractive career path to youth, ii) to develop global leaders who will be able to lead the future international research communities, and iii) to address social issues and come up with feasible solutions for them. In addition to the aforementioned, we also would like to accelerate the revitalization of the Chugoku-Shikoku regions with a view to promote the HIRAKU-Global Consortium as a platform for creating innovation.
Message from the Lead Organization's Executive Manager                       AIDA Misako - Professor (Special Designation), Hiroshima University
The HIRAKU-Global Consortium aims to develop world-class researchers through a powerful collaboration of the universities demonstrating their own unique strengths in the Chugoku and Shikoku regions. The Consortium also aspires to establish a global research platform in these regions.
The world-class researchers that the Consortium strives to develop is defined as follows: researchers that are able to lead unique research in the world through refining their original investigative senses and collaborating with domestic and international researchers in various fields, while managing their own labs and helping their students to prosper. In other words, it is not enough for the researcher to become just a world-class professional; they should also be able to leave a deep impact on the current world and future generations.
Currently, national investments on research enhancement and R&D activities are concentrated into a certain group of universities in Japan. If this trend was to continue, it will become even more difficult to preserve the diversity in the research fields and personnel, and to develop diverse future generations. As we are in the process of seeking a post-COVID-19 approach, the importance of decentralization has been pointed out, and that should be promoted from the perspective of the enhancement of Japanese research. Therefore, the HIRAKU-Global Consortium aspires to further enhance research capacity in the Chugoku and Shikoku regions.
The Consortium will also develop evaluation indicators for the research and researchers, together with the establishment of the world-class researcher development program. This will enable us to prove the validity of the program and its effectiveness, and to improve it accordingly so it can become a systematic development platform for cultivating world-class researchers.
Now is an intriguing time for regional Japan. Come and take a look for yourself!