Joint Usage / Education Center (MEXT)
Marine Biological Laboratory has been authorized as a Joint Usage / Education Center by the Ministry of Education, Culture, Sports, Science and Technology (MEXT) from April 1st, 2023 to March 31st, 2028. The project title is "Learn Beyond Time and Space: Shimanami-Kaido Broad Area Marine Biology Education Joint Usage International Hub". Click bellow for more information.
MEXT:https://www.mext.go.jp/a_menu/koutou/daigakukan/1360542.htm
Visitor Information
※ For potential visitors,
Considering the current situation of the COVID-19 pandemic, we developed a guideline for infectious disease countermeasures and are asking visitors to use the facilities in keeping with the guideline. Click here for more information.
The MBL is opened for all researchers and students at other universities, especially for educational purposes. We are looking for the facility use. You can conduct marine courses such as studying biodiversity with fieldworks and classifications in the area around the laboratory, or studying developmental biology using marine invertebrates, sea urchins and ascidians, etc. We would be able to assist you if you needed it. We are also opened for research usages by undergraduate and graduate students for their thesis. Please contact us for more information!
The Marine Biological Laboratory is conducting education & research on the Evolution and Development (Evo-Devo) with a focus on enteropneust hemichordates and acoel flatworms.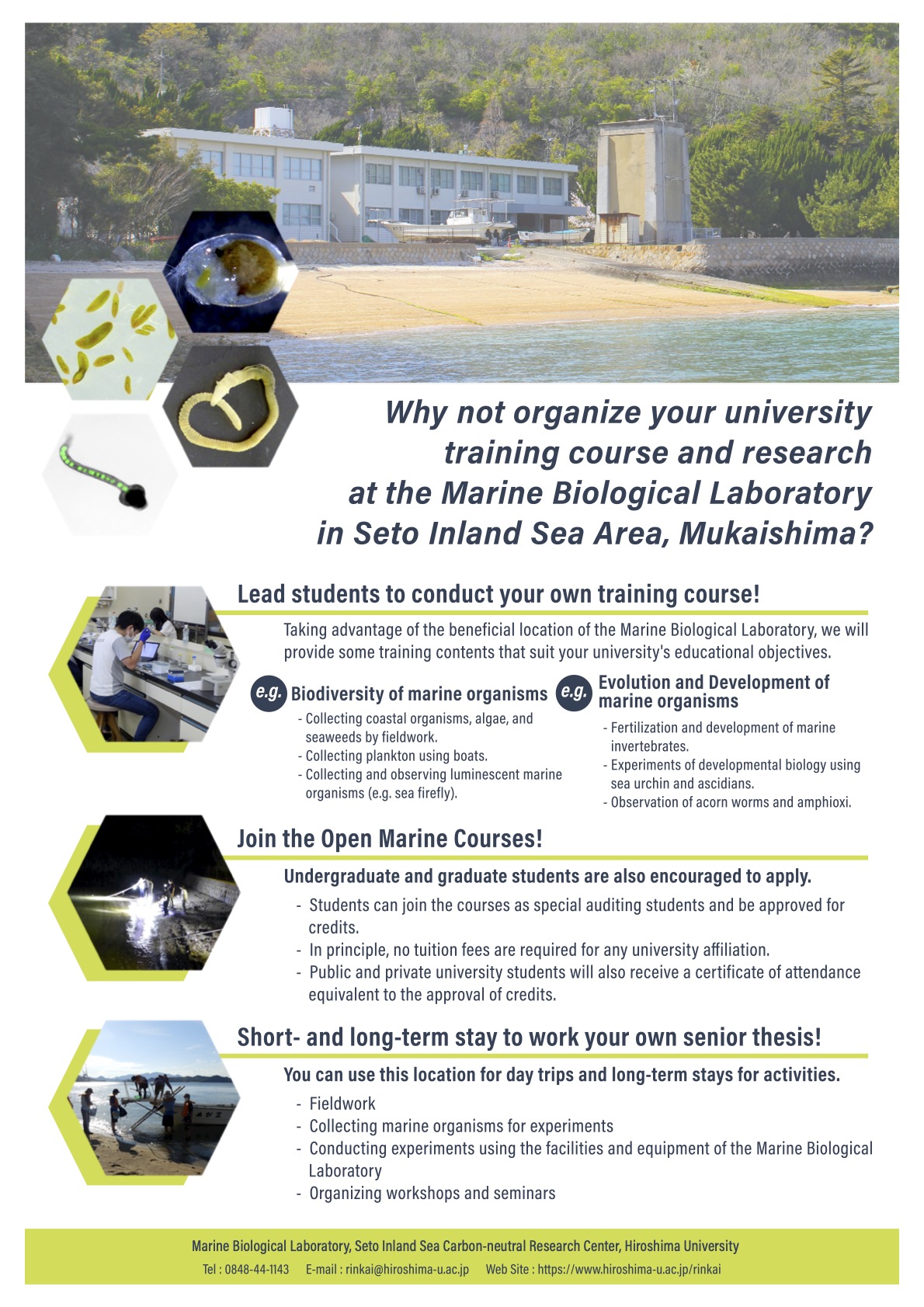 ↓The pamphlet can be downloaded from here (PDF format).
If you would like to use the facility, please send us an Application form by e-mail at rinkai-jimu*hiroshima-u.ac.jp (Note: *must be converted into at sign).
Click here for more information.