For inquiries regarding the use of MBL for research and practical training course (and any other questions), please contact us using the contact information below.
Marine Biological Laboratory, Blue Innovation Division, Seto Inland Sea Carbon-neutral Research Center, Hiroshima University
2445, Mukaishima-cho, Onomichi, Hiroshima 722-0073, Japan
TEL: +81-848-44-1143
FAX: +81-848-44-5914
E-mail: rinkai*hiroshima-u.ac.jp (*must be converted into at sign)
Access by local train (Sanyo Line):Get off the train (Sanyo Line) at JR-Onomichi Station and take 5 minutes on a ferry (Ekimae-Tosen) to Mukaishima Island, departing from the port just south of the station. It is about 5 km from the ferry port (Mukaishima Island side) to the MBL located at the southeast end of the island. You can reach the MBL in about 10 minutes by taxi (taxi rank is near the ferry port) or 15 minutes by bus.
Access by Shinkansen bullet train:Get off the Shinkansen (Tokaido-Sanyo Shinkansen Line) at Shin-Onomichi Station and take a bus or taxi to JR-Onomichi Station. It takes about 15 minutes.
Access by airplane:It takes about one hour to JR-Onomichi Station by bus and train from Hiroshima Airport.
Access by car:When using Sanyo Expressway, exit at the Fukuyama-Nishi Interchange and proceed toward Onomichi・Shimanami Kaido. Then, turn off at the Onomichi Ohashi Exit and enter Mukaishima by crossing the Onomichi Ohashi.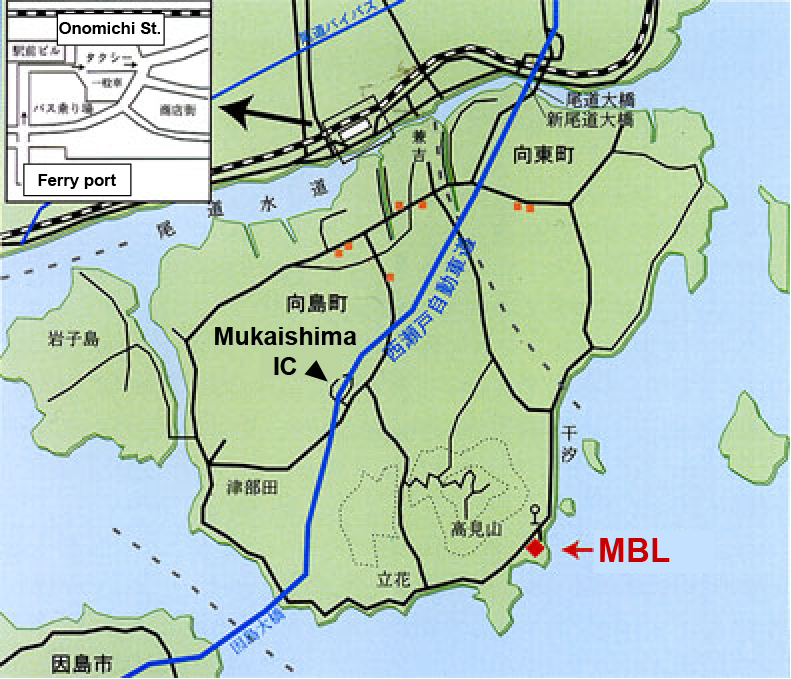 Access by Bus
There is a bus stop called "Ekimae Tosen(駅前渡船 in Japanese)" about 50m south of the ferry port at Mukaishima Island side. You can take a bus bound for "Tachibana・Enoura (立花・江の浦 in Japanese)" from there. Five buses are running between 8:00 and 15:00, but there are no buses on Saturday, Sunday, and holidays. Please check here for more information about the bus schedule (in Japanese). Take a 15 minutes bus ride from the ferry port and get off at the "Daigakumae(大学前in Japanese)" bus stop.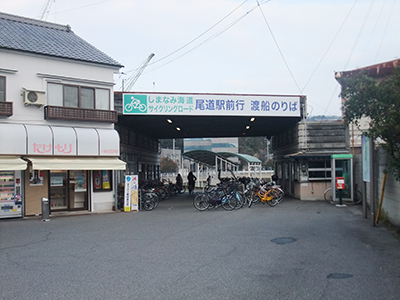 Ferry port (Mukaishima Island side)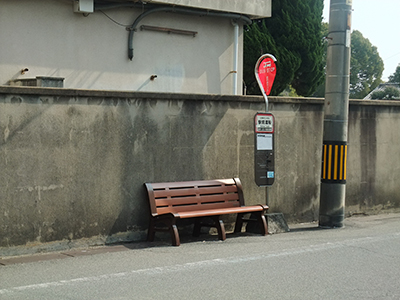 Onomichi bus. Bus stop "Ekimae Tosen (駅前渡船 in Japanese)"
Gateway to the MBL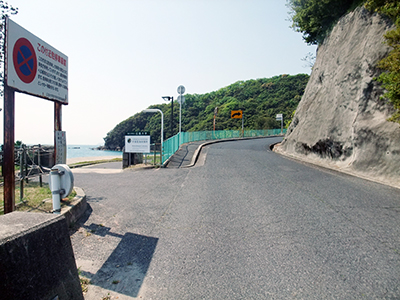 You can see this gateway on the south side (ocean side) of the "Daigakumae (大学前 in Japanese)" bus stop
Entrance & Parking space
When you arrive, please check in at the office on the right side of the entrance of the main building.
The parking space is located on the ground where you go up a slope on the right side of the main building and turn left at the end. Then, you would see the ground (parking area). Please park near the accommodation building. Please avoid to park near the cliff side as there is a possibility of rockfall.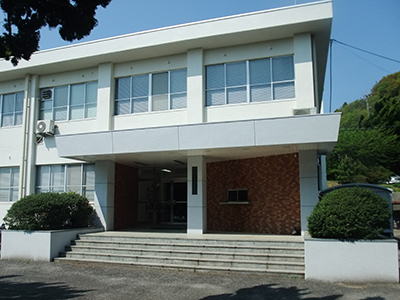 The entrance of main building