The MBL of Hiroshima University established in 1933 is the fourth oldest marine biological laboratory in Japan.
The laboratory belongs to the Graduate School of Integrated Sciences for Life and performs education on biodiversity.
It is located at a small island, Mukaishima, in the Seto Inland Sea, which is about 60 km east from the main campus at Higashi-Hiroshima city. The location is very beautiful and calm, but convenient for transportation.
The nearest airport, Hiroshima Airpot is within one hour by car, the station of the Shin-kansen line, Shin-Onomichi, is about 30 min. The highway, Shimanami-Kaido, passes through the island.
History of Marine and Inland Water Stations in Japan
Japan is an ocean country surrounded by the sea on all sides. The coastline which the cold and warm water washes is the third longest in the world, and the deep ocean, one of the Japan Trench etc, approaches the coast and the biota is extremely rich.
Focusing on these circumstances, the predecessors of the Meiji era who gained insight into the importance of educational research of basic marine biology established the first marine station in Japan as attached to the Imperial University (now the University of Tokyo) in Misaki Town, Kanagawa Prefecture in 1886.
Later from the Taisho era to the early Showa period, marine stations were established one after another in various universities including Kyoto Imperial University (now Kyoto University) and Tohoku Imperial University (now Tohoku University). The marine station of our university was established at the same time as that of the former Tokyo University of Education (now Tsukuba University) based on that background.
Currently, national universities in Japan have 21 marine and inland water stations or centers. Please see http://www.research.kobe-u.ac.jp/rcis-kurcis/station/index.html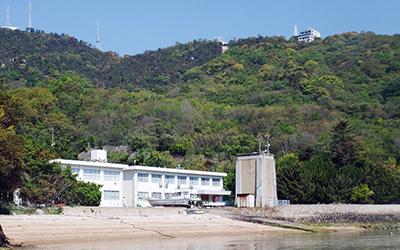 Education
We accept undergraduate and graduate students belonging to our laboratory to stay and study here. We also provide several marine practical courses to students belonging to Hiroshima University or other universities in Japan.
We also respond to the request from other universities to conduct marine practical courses here.