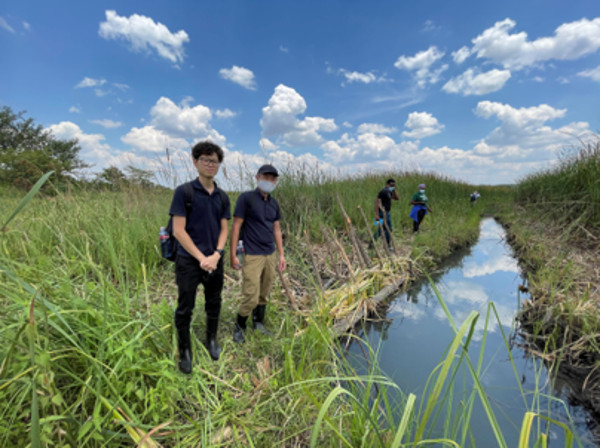 (An irrigation project site)
JICA職員,大学院国際協力研究科(IDEC) 修了
派遣先:2015年度 FORWARD Nepal(ネパール)
recent situation and her thoughts on G.ecbo Program. recent situation and her thoughts on G.ecbo Program.
Recent situation and thoughts on G.ecbo program.
After completing my studies at IDEC in 2017, I joined the Japan International Cooperation Agency (JICA). Since June 2021, I have been stationed at the JICA Zambia office. Currently, I am in charge of agriculture and rural development, including rice cultivation and irrigation projects. My main work at the office is to manage the progress of the project in the field and to coordinate with the Zambian government.
When you hear the word "Africa," you may have an image of a dangerous or uncivilized place, but in Zambia, people are gentle and kind, and the country is peaceful and easy to live in. The capital city, Lusaka, has a number of modern shopping malls, making everyday life easy and comfortable.
The G.ecbo Program provided me with an opportunity to become involved in the world of international cooperation, as I had never been to a developing country before entering graduate school. I used this program to conduct research in a rural village in Nepal when I was a first-year university student, and I have applied to my current work what I learned from the experience of struggling to communicate with the Nepalese interpreter I worked with then. At the time, I was so eager to keep the investigation on schedule and accurate that I imposed my own opinions on the interpreter. As a result, although the survey itself was successful and we collected the data as planned, he lost his motivation and eventually we had a slight falling out.
In my current job, I need to work with local Zambian staff to get things done. I try to listen to what they have to say, respect their ideas, and then make any decisions. When I work with them, sometimes things don't go the way I want them to and I am tempted to push through my own way of thinking. In such cases, I remember the lessons I learned from the G.ecbo Program and try to be conscious of respecting the initiative of Zambian people.

(Flame tree flowers and jacaranda flowers that bloom throughout cities in Zambia)

(People eating the Zambian national dish, Sima)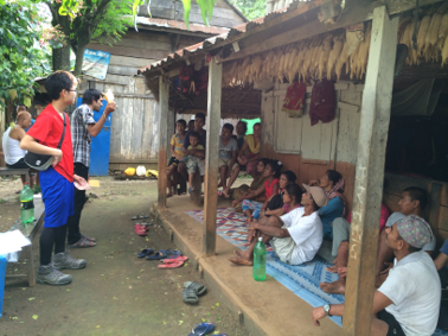 (During my internship with FORWARD Nepal, 2015)