Research
The Laboratory of Biology of Aquatic Resources conducts various studies
on fisheries biology for the optimal use of fisheries resources, and ecological studies of reef fishes towards understanding the diversity of adaptative modes in nature.
1) Behavioral ecology and population ecology of fisheries species in Seto
Inland Sea and on coral reefs (Sakai, Y.)
2) Interspecific and animal-environment relationships in coastal waters in relation to the productivity of fishes. (Tomiyama T.)
Keywords
Mating system, Reproductive behaviors, Life history, Coastal fisheries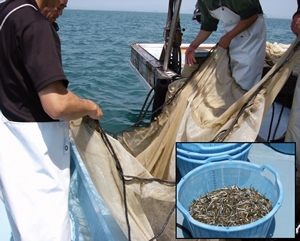 Field study of sand eel fisheries off Matsuyama,Ehime Prefecture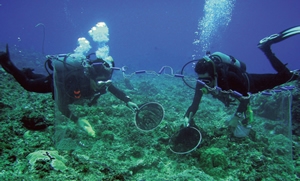 Underwater investigation into social and mating systems of reef fishes
Recent Publications
Shimizu, N., Y. Sakai, H. Hashimoto & K. Gushima(2006)Terrestrial reproduction by the air-breathing fish Andamia tetradactyla (Pisces; Blenniidae) on supralittoral reefs. Journal of Zoology (London) 269: 357-364.
Yoshita, Y., Y. Yamanoue, K. Sagara, M. Nishibori, H. Kuniyoshi, T. Umino, Y. Sakai, H. Hashimoto, K. Gushima (2009) Phylogenetic relationship of two Mola sunfishes (Tetraodontiformes: Molidae) occurring around the coast of Japan, with notes on their geographical distribution and morphological characteristics. Ichthyological Research 56: 232-244.
Kadota, T., J. Osato, K. Nagata, Y. Sakai (2011) Reversed sex change in the haremic protogynous hawkfish Cirrhitichthys falco in natural conditions. Ethology 118: 1-9.
B. Barros, Y. Sakai, H. Hashimoto, K. Gushima, M. Vallinoto (2012) 'Better off alone than in bad company': agonistic colour display in mimetic juveniles of two ephippid species. Journal of Fish Biology 81:1032–1042
Yoshida K, Sato T, Narita K, Tomiyama T (2017) Abundance and body size of the moonsnail Laguncula pulchella in the Misuji River estuary, Seto Inland Sea, Japan: comparison with a population in northern Japan. Plankton and Benthos Research 12: 53-60
Kusakabe K, Hata M, Shoji J, Hori M, Tomiyama T (2017) Effects of water temperature on feeding and growth of juvenile marbled flounder Pseudopleuronectes yokohamae under laboratory conditions: evaluation by group- and individual-based methods. Fisheries Science 83: 215-219
Shigematsu Y, Ochi Y, Yamaguchi S, Nakaguchi K, Sakai Y, Shibata J, Nishijima W, Tomiyama T (2017) Winter longitudinal variation in the body size of larval fishes in the Seto Inland Sea, Japan. Fisheries Science 83: 373-382
Okamoto N, Maung-Saw-Htoo-Thaw, Sein-Thaung, Koike K, Shibata J, Tomiyama T (2018) Species composition of hairtails (Trichiuridae) in Myanmar. Regional Studies in Marine Science 17: 73-77
staff