Introduction of department
In our department, we provide imaging diagnosis for patients who are undergoing treatment for oral and maxillofacial conditions which includes: endodontics, orthodontics, periodontology, oral surgery, dental implants, and so on. In addition, we provide consultation for external beam radiotherapy and brachytherapy for oral cancer patients.
This department can perform the following examinations and/or treatments.
- Intraoral radiography
- Panoramic radiography
- Radiography of the head and neck
- Radiography of the temporomandibular joint
- Cephalometric Radiography
- Cone beam CT (Computed Tomography)
- Ultrasonography
- Examination of swallowing
- Consultation concerning radiotherapy for oral cancer patients as well as extensive follow-up of radiotherapy patients
MDCT (multi-detector CT), MRI (Magnetic Resonance Imaging), and PET/CT (Positron Emission Tomography/Computed Tomography) scanners are installed in the medical section of our hospital and are also used to diagnose our dental patients.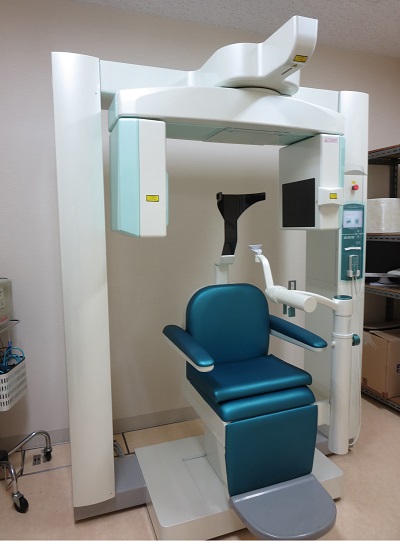 Exclusive CBCT scanner
This CBCT scanner is used in a wide range of applications such as narrow-field imaging for specific tooth conditions to large-field imaging for trauma cases or orthodontic treatments using smaller radiation doses compared to MDCT.
Research content
Radiographic studies to screen for osteoporosis using panoramic radiographs of the jaw.
Radiographic studies on osteomyelitis.
MRI studies on the temporomandibular joint.
Studies concerning diagnostic radiation dosimetry using X-rays.
Studies involving video-fluoroscopic examination of swallowing.
Radiation effects of heavy ion particles on bone metabolism.
Research on the improvement of radiotherapy in treating oral cancers.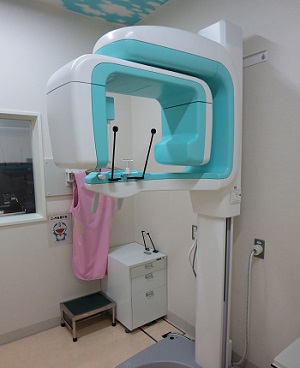 Integrated Panoramic and CBCT scanner.
Digital panoramic images and CBCT images are taken by this scanner. Furthermore, the possibility of having osteoporosis is automatically indicated using panoramic images through a specialized software package developed by our department.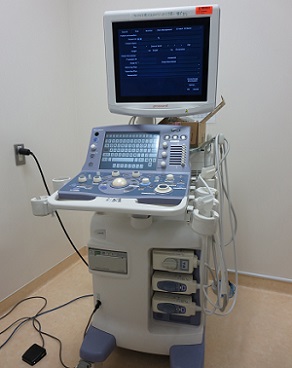 Ultrasound Machine
Non-invasive diagnostic tool to investigate soft tissue diseases such as primary tumors, metastatic tumors to the cervical lymph node, or salivary gland diseases.