Educational Philosophy
The School of Medicine shares a common philosophy to cultivate the following personnel in medicine and health sciences: those who acquire a rich sense of humanity and broad knowledge appropriate for practitioners of medicine, health and welfare; basic knowledge, skills and attitude for professional practice; scientific and creative thinking abilities; a deep interest in regional medicine; global awareness.
Admission Policy
We seek students who place value on connections with others; are enthusiastic to learn and work in the field of public health, and to possess an academic knowledge necessary to complete specialized education conducted at schools and various programs.
The School of Medicine consists of the Program of Medicine and the Program of Health Sciences. It cultivates knowledge and skills in specialized areas, a sense of humanity and a comprehensive education.
Program of Medicine aims to foster medical practitioners while Program of Health Sciences aims to foster nurses, physical therapists and occupational therapists. Each Program offers the educational course which enables students to efficiently acquire knowledge and skills, as well as Inter-Professional Education (IPE) and early exposure joint practice with 3 Schools: Medicine, Dentistry and Pharmaceutical Sciences to nurture medical specialists who can take an active role in a medical team.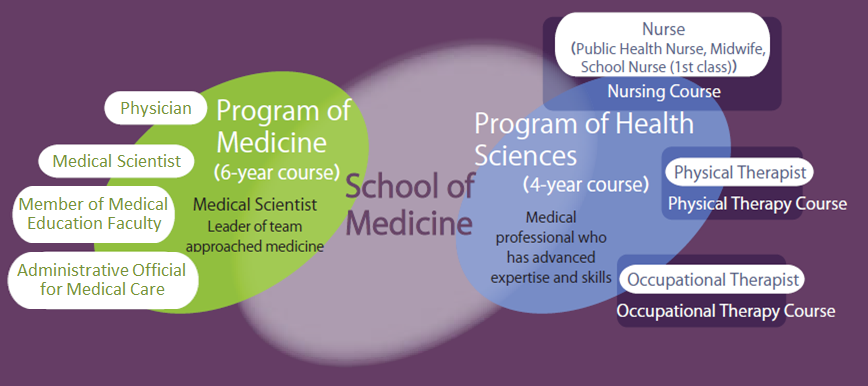 Program of Medicine
To acquire adequate knowledge, skills and sense of humanity for leaders in a clinical setting
The Program of Medicine's goal is to cultivate human resources in medical students who are then able to contribute to society in their role as medical practitioners. Medical students study for six years. During this time students systematically acquire comprehensive medical knowledge, as well as the ability to accurately analyze and successfully evaluate various symptoms and treat diseases. Students also develop their flexible thinking in working in the field of research of medical sciences and treatments, and learn about the administration and legal systems related to medical treatments. Furthermore, the School of Medicine allows students to touch upon various fields of study and culture in order to acquire language abilities corresponding to internationalization and computerization; a rich sense of humanity and broad education; and cultivate attitudes required to be successful medical practitioners.
Program of Health Sciences
Aiming for professionals of health care with scientific thinking skills and ethical values
■Nursing Course
Nursing is the occupation which involves the care of sick people and to face life and death situations. This course provides nursing students with the curricula and numerous learning environs along with the requisite bed-side training.
■Physical Therapy Course
It is physical therapy that restores both the mental and physical functions and abilities of patients who have physical disabilities or whose physical powers have decreased. This course cultivates well-qualified students providing opportunities for them to learn, in the short or long term, clinical practices as well as the acquisition of knowledge and skills.
■Occupational Therapy Course
Occupational therapy is a practical study which utilizes daily activities as a method of medical treatment. Students acquire influential bases for the mind and body and how they are affected by daily activities, and the importance of daily activities in a therapeutical sense. The students also learn extensively about the required assistance or teaching methods which correspond to various disabilities.