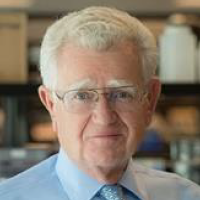 Robert W. MAHLEY, M.D., Ph.D.
President Emeritus and Founder, Gladstone Institutes, USA
Senior Investigator, Gladstone Institutes, USA
Professor of Pathology and Medicine, University of California, San Francisco, USA
Robert Mahley is President Emeritus, Senior Investigator at the Gladstone Institutes, and Professor of Pathology and Medicine at the University of California, San Francisco. He is a member of the National Academy of Sciences, the National Academy of Medicine, and the American Academy of Arts & Sciences. He earned a BS from Maryville College and a MD/PhD from Vanderbilt University.
In 1971, Dr. Mahley joined the staff of the National Heart, Lung, and Blood Institute (NHLBI) at the National Institutes of Health and, in 1975, became head of the Comparative Atherosclerosis and Arterial Metabolism Section in NHLBI's Laboratory of Experimental Atherosclerosis. Four years later, he was recruited to create the Gladstone Institutes.
As Gladstone's President, Dr. Mahley oversaw the organization's establishment and growth to include three institutes focusing on cardiovascular disease, HIV and AIDS, and neurological diseases, including Alzheimer's disease. In 2010, after 30 years as director/president, he stepped down to more actively pursue his research. Dr. Mahley's research focuses on apolipoprotein (apo) E in heart disease, cholesterol metabolism and, more recently, Alzheimer's disease. His understanding of the structure and function of apoE laid the groundwork for the explosion of research linking apoE4—a variant of apoE—to the pathogenesis of Alzheimer's disease and other neurodegenerative disorders. More recently, he discovered a series of small molecules that "correct" the structure of apoE4 to make it more like the neuroprotective apoE3/apoE2, potentially leading to an apoE4 structure corrector therapy for patients with apoE4-associated neuropathology.
In addition, he promoted the core values of excellence, integrity, and teamwork for the institutes. The Gladstone is recognized as a premier research institute, but also as an outstanding training center for young scientists. Gladstone has been acknowledged as the Best Place for Postdoctoral Scholars to Work in surveys of universities, medical schools, and research institutes conducted by The Scientist publication. Gladstone was ranked as number 1, 2, or 3 worldwide four years in a row.