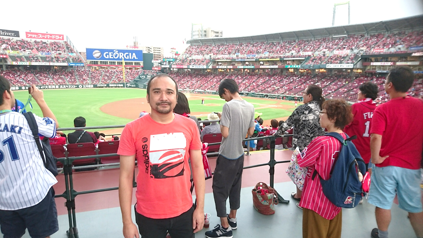 2017 – One week before the Hiroshima Carp baseball team won the Central League Championship
 
【Internship participation history】
■Master's Course(Graduate School for International Development and Cooperation)
・February - March 2014: Participated in G.ecbo (IDEC Specialized Internship -ECBO) program (46 days)
Interned at ICLEI-Local Governments for Sustainability Southeast Asia Secretariat (Philippines)
■Doctoral Course(Graduate School for International Development and Cooperation)
・February - March 2016: Participated in G.ecbo Practical Researchers Training Program (56 days)
Interned at Solid Waste Management Technical Support Center (SWMTSC)  (Nepal)
■Doctoral Course(Graduate School for International Development and Cooperation)
・January - March 2017: Participated in Home for Innovative Researchers and Academic Knowledge Users (HIRAKU) Long-Term Internship Program (59 days)
Interned at Nishikawa Rubber Co., LTD. (Japan) 
➡After Completed on Doctoral Course
・April 2018: Employment at Nishikawa Rubber Co., Ltd.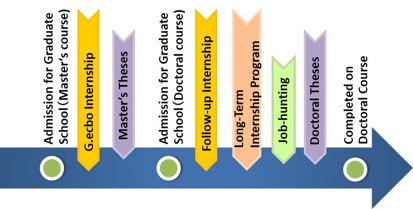 Enriching Internship Experience (Participated in 3 internships!)
I have participated in two overseas internship programs during my five years of graduate student life at Hiroshima University.
The first internship was at the "ICLEI - Local Governments for Sustainability Southeast Asia Secretariat (ICLEI SEAS)" in the Philippines in 2014, when I was first year master's student. The topic of my master's thesis was "Municipal Solid Waste Management Policies and Practices in the Philippines", so I wanted to study the current solid waste management situation in detail and also the perspectives of both the government and the local people. Using this long-term internship opportunity, I conducted a survey for the master's thesis. Because ICLEI was doing projects and activities with the local governments, I was able to receive a lot of support during the survey. I could also make personal relationships with the staffs of ICLEI SEAS and I am still in touch with them.

[i-ECBO] With staff members of ICLEI (left) / [i-ECBO] Being interviewed in Quezon City(rigft)
The second internship was G.ecbo Practical Researchers Training Program from February to March 2016 at the "Solid Waste Management Technical Support Center (SWMTSC)" in Nepal. During the second year as a doctoral student, I had already conducted a survey on waste management in Nepal in 2015 for my dissertation. I participated in the internship program in 2016 to conduct research on topics that I was not able to conduct in 2015. SWMTSC is a government agency and I was able to learn in detail and understand about the overall current waste management situation in Nepal. Based on the results of this internship survey, I was able to write one chapter of my doctoral dissertation.
The main reason for participating in the G.ecbo overseas internship program was to conduct research for my thesis and to have a practical insight on how organizations are engaged in activities related to waste management. After returning to Japan, I was fortunate to become RA for G.ecbo program and utilizing my internship experiences, I was able to help students participating in the internship program with guidance on internship and preliminary training.

[G.ecbo Follow-up program] being interviewed at SWMTSC (left) /  Researching compost from household waste (rigft)
Because I am a student of Graduate School for International Development and Cooperation, I wanted to do a job that has an international relationship. I always had a strong feeling to work in Japan, so first of all I wanted to do an internship in a Japanese company. I was worried about whether I could get a job that I wanted, whether my Japanese ability was sufficient to work in Japan, and whether I could adapt to Japanese work culture. For that reason, I participated in HIRAKU Long-Term Internship Program of Hiroshima University and did internship at Nishikawa Rubber Co., Ltd. from January to March 2017. During the internship, I learned the Japanese work culture, realized that my Japanese skill is enough to work here in Japan and most importantly, the job profile matched my job expectations. Therefore, I wanted to pursue career at Nishikawa Rubber Co., Ltd. and applied for job. As a result, I got a job offer, and I will be joining the company from April 2018.
Although 5 years at Hiroshima University have passed by so quickly, the internship experiences have not only helped me to conduct research for my thesis, but it was also very useful to find my dream job. Furthermore, I got a variety of practical international experiences which cannot be learned in the classroom. I would like to express my heartfelt gratitude to all the staff of G.ecbo program, HIRAKU Long-Term Internship Program, and host institutions.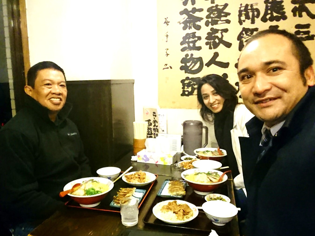 Reunion in Japan with the Regional Director of ICLEI-SEAS