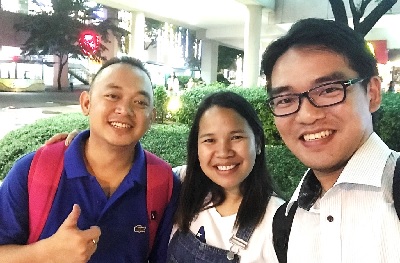 Interned at Armec VPI (Philippines) in AY2018,  Oriental Consultants Global Co, Ltd Employee
Why did you choose this corporation or field of work?
When I was an undergraduate, I majored in civil engineering and in graduate school I belonged to the Transportation Engineering Laboratory. From that time onward I had a hazy notion that I would like to work overseas. About 80% of the students at the Graduate School for International Development and Cooperation are exchange students and when I was in the lab, I often heard exchange stu-dents saying that their hometowns were experiencing terrible traffic jams and they would like to do something to resolve it. Growing up in Japan, I took many things for granted but the situation is quite different in other countries and I realized how lucky I was to be in Japan. From this experience, I would like developing countries to have things that I would consider normal too and so I hope to contribute to alleviated the traffic problems in urban cities in developing countries. That's why I decided to apply for a job with Oriental Consultants Global Co., Ltd., so that I can be involved in projects for urban problems in developing coun-tries, from the planning stage through to the design stages.
What influence did your internship expe-rience have on your job-hunting?
Although I had been on trips overseas, it was the first time for me to meet Japanese people working outside of Japan and to see where they work. While I was in Manila, I had the opportunity to meet several Japanese people working there and I got the impression that they were full of life and enjoy-ing their work. From that experience, I had been thinking that I would like to work overseas from before participating in this program, and after I experienced being an intern, this desire
became even stronger.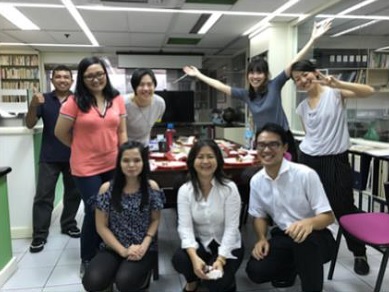 Taken after finishing the last presentation at the office in the Philip-pines.
What are your future goals?
I want to become the kind of professional consultant who listens to what all the people living locally have to say and what they want to do, and then propose a traffic plan that everyone can approve of.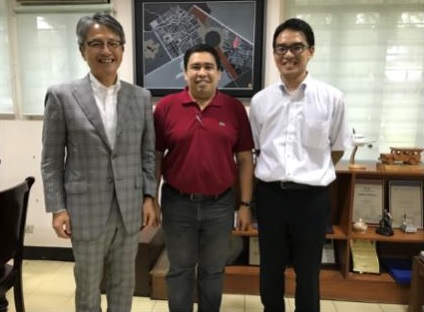 Professor FUJIWARA Akimasa , my supervisor, and Professor Jose Regin Regidor from the University of the Philippines who often gave me advice.
What advice can you share with those who are graduating after you?
I'm sure some who are a little worried about joining the G.ecbo Program and are hesitant. It was the same for me until I became an intern but I had absolutely no regrets once I joined. When I was in Manila there were some difficult times but when I look back on it, I realize it was a valuable experience and everything gave me more confidence in myself. While you are a student, there will always be someone to help you if you make some mistake, so if you are interested, please take up the challenge.