Interdisciplinary Arts and Sciences Education
The IGS Department provides a liberal arts and sciences curriculum to develop a diverse approach to exploring and solving current global issues by utilizing an integrative perspective incorporating humanities, social sciences, and natural sciences. Consequently, knowledge and skills learnt through the curriculum should guide students to the exploration of and possible solutions to issues that modern society is currently facing around the globe.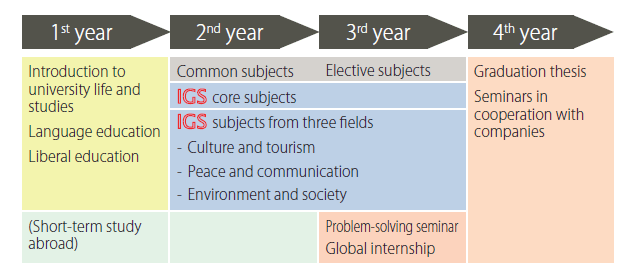 Language education

All courses are conducted in English.
Those whose first language (L1) is Japanese are required to attend a study abroad program in the second year.
Students whose first language (L1) is not Japanese will study Japanese intensively.
Students are encouraged to learn a third or fourth foreign language.

Tailor-made curriculum: students create their own individual curriculum guided by their tutors.
Multidisciplinary subjects to acquire the knowledge and methodology that provide a foundation for the possible solutions to social and environmental issues.
Courses to improve debate and presentation skills in both English and Japanese.
Curricula focused on culture and tourism, peace and communication, and environment and society.
Global internship for 3rd-year students in overseas companies and multinational enterprises.
Problem-solving seminar and graduation thesis.