G.ecbo internship: PADECO CO,. Ltd (Bangladesh) in AY2013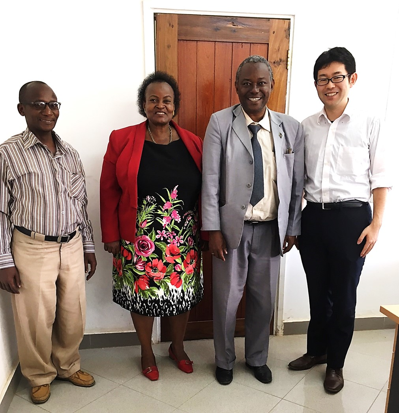 (Courtesy call to the Regional Commissioner of the Iringa Region)
I belong to the development consultant company, International Development Center of Japan (IDCJ). I come and go between Tanzania and Japan, and am engaged in a project for capacity building for the Agricultural Sector Development Program (ASDP) monitoring and evaluation system, which is a technical cooperation project conducted by Japan International Cooperation Agency (JICA).
IDCJ is commissioned to conduct projects and
survey business ordered by JICA, the Ministry of Foreign Affairs and international aid enterprises, and carries out these operations on behalf of the client. IDCJ's fields of expertise are mainly economic and social development, regional and urban development, and evaluation services.
Opportunities in which you take advantage of your internship experience/what you learned via the program 
Experiences gained during my internship through the G.ecbo program are being fully utilized in my work now. In particular, building good relationships with the administrative official (my counterpart) from the government of the other country, who helps manage the project together with me; and also the manner in which I work within the Japanese team of experts; these are aspects of my job that come from my internship experience.
For example: how to get on well with my counterpart; and keeping an eye out for things or information that the team will need and
always being ready to act for the team. Another important thing is how to look after one's own mental and physical health while living and working in an environment different to Japan. I have cultivated this kind of know-how through real-life experience and I value very highly the experiences I accumulated while I was an intern.
For those who are aiming to work in the field of international cooperation and aid, what are the abilities required of them?
Being involved in nation building of developing countries is wonderful work which can give one a great sense of satisfaction.
However, I would like people who are seeking to do this kind of work to understand that as well as the positive side, there are also many hardships as well. For reference, listed below are some of the abilities required of young people doing this kind of work.
i) Ability to adjust to different cultures and resilience towards the unexpected (not being discouraged but tackling things in a positive manner).
ii) Negotiation skills and the ability to express oneself well (communications skills) as well as linguistic ability.
iii) A sense of curiosity, observational ability and analytic ability, and ability to act.
iv) Ability to design one's own career, being able to maintain one's own physical and mental health.
v)In addition to the above, if you can build up your own field of expertise for the future, that would be so much the better.
I think that G.ecbo is a revolutionary program enabling interns to acquire valuable experiences. Students should take challenges proactively as this will help in designing one's life plan after academic research and graduation.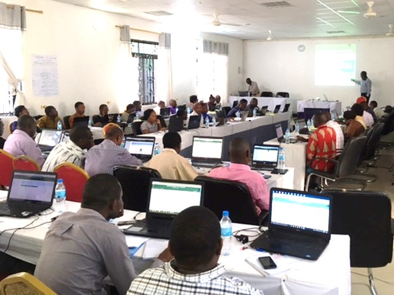 (National training seminar for state and prefectural officials)