Hiroshima University will be entirely smoke-free from January 2020.
In January 2019, Hiroshima University has announced the "Hiroshima University No-Smoking Declaration" and has decided to completely prohibit smoking on campus from January 2020.
In accordance with the "Road Map", Hiroshima University has been taking measures such as prescribing free anti-smoking medication to students, holding lectures about anti-smoking on campus, and conducting regular patrols in the surrounding streets. In addition, Hiroshima University has been gradually reducing the number of smoking areas on campus, and by the end of December last year all smoking areas have been closed, transitioning the university to the no-smoking on campus phase.
With the understanding and cooperation of not only the members of Hiroshima University, but also visitors, local residents, and others involved with the university, we are determined to achieve the goal of a smoke-free environment.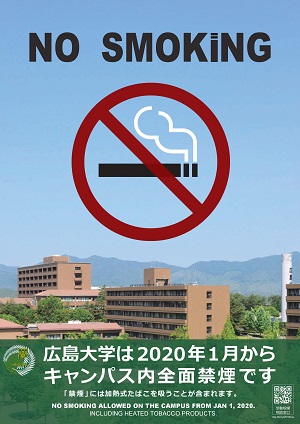 Related materials
Efforts to ban smoking on campus
Anti-smoking seminar (on campus).
Provision of counseling for students/staff on quitting smoking, and free prescriptions of smoking cessation medication for students (Health Service Center).
Guidance and other measures to inform new students and new faculty members about the non-smoking policy.
Collection of information on smoking situations by the passive smoking consultation service
Disseminate information to local residents.
Regular patrols of non-smoking areas (e.g., picking up cigarette butts on campus)
[Inquiries]
Hiroshima University, General Affairs Group
TEL: 082-424-6129
E-mail: risk-anzen*office.hiroshima-u.ac.jp (Please change * with @)