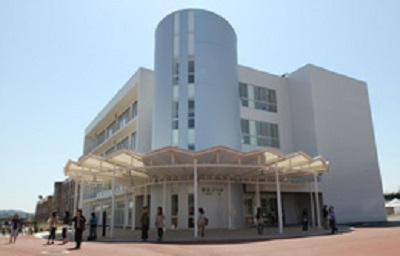 Student Plaza Overview
The Student Plaza is a four storied ferroconcrete building situated on the west of "Budou Pond" at the heart of the Higashi-Hiroshima Campus. At this facility, Hiroshima University provides its students with "integral student support," for example, support for school life, finding employment, and for international students. The first floor is open to students and serves as a "Place for Student Interaction" where international students and Japanese students could interact, transcending the boundaries of schools and graduate schools.
On the first floor can be found a general information corner and free space for student use, which are open to students between 08:30 and 20:00 on weekdays. A variety of services are offered on the second to fourth floors, spanning everything from student life through to finding employment, including the General Student Support Center, the Career Center, an inquiries desk for international students, the Accessibility Center, Peer Support Room, and the Health Service Center (Mental Health and Counseling Sections).