Nadiah Kinanthi (Indonesia)
International Dental Course
(from Airlangga University)
* Currently studying inat the School of Dentistry (4th gradeyear) as a special auditing student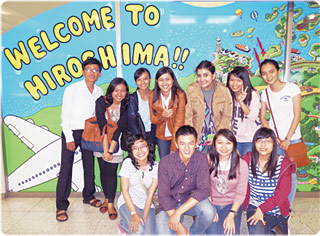 Faculty of Dentistry International Dental Program
It has long been anticipated to foster dental human resources who well understand trend of biology and genome medicine, and practice evidence-based and patient-oriented dentistry. For this mission, Hiroshima University Faculty of Dentistry have been required to operate the education based on biology, engineering and general medicine, to harmonize the education crossing-over disciplines among dental jobs, and to develop the ability to respond to globalization.
We have actively pursued educational reform in dentistry and oral health sciences at undergraduate level over the last decade, and made ceaseless approach to develop Asia-based global collaboration in dental education and researches.
1. Please tell me why you decided to study dentistry.
Actually, since I was in senior high school I always thought it would be good if I had a job where I can help others, so I thought about getting a job in the medical field. My father actually advised me to become a medical doctor, but I said to him decisively that I didn't want to be a medical doctor, but a dentist. Because I was more interested, or preferred to be a dentist, I thought becoming a dentist was very good for me. Since then, I focused on my thinking and tried to enter the dentistry school, and I could enter the university's faculty of dentistry.
2. Now you are studying in a foreign country, eating different food in a different culture. Why did you decide to come to Japan?
I think studying abroad in Japan is a very good opportunity because Japan is a developed country with a very sophisticated high-technology, and also good education. Coming to Japan was a very good chance for me to develop myself, and I want to be different among my colleagues in my faculty. I thought that if I can take this chance, it means I get a chance to go one step ahead of my colleagues so I didn't want to lose this chance to come here.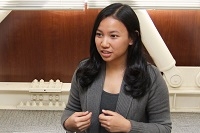 3. What was your impression when you actually came to Japan and took your first class at Hiroshima University?
Well, the first time I felt so nervous and worried about how the classes would be like, because that was the first time for me to study abroad, and I didn't know how my study or my friends or teachers here would be. I think my friends and teachers were very welcoming and nice. Maybe the first time, I was a little bit nervous because of communication and I couldn't speak Japanese well and it was a little bit difficult to have a conversation, but after that, it became better because we became closer and closer. I think it's OK now! And I like Japanese students very much. They always try to do their best in everything. So I like this characteristic of Japanese people.
I think the teachers' instruction during class are quite good. Because even in some practice, first they only explain in Japanese, but after that the teachers come to international students and explain clearly about the instructions of the practice. So it's understandable.
4. Do you have some advice for your juniorsother Indonesian students who wish to study abroad, maybe in Japan?
I think they have to really prepare themselves because studying abroad is not easy. We have to prepare our knowledge and also our feelings too, because as you may know, experiencing new things in Japan sometimes means many troubles. So it's not easy but if you are motivated enough to come to Japan and study, I think you should come because it's a very good chance for you.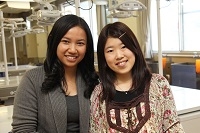 5. In this globalized environment, you will become a dentist in the future. What kind of a dentist or international leader would you like to become in future?
Actually, I want to be a practicing dentist who treats patients as well as an international researcher who works in a university. I want to go to other countries and attend some conferences about dentistry. Actually one more thing I want to do is volunteer work. For example, my country is still developing and many people including children are still under difficult situations to get proper treatment for medical or dental health. To support such underprivileged people, I want to make some foundations to do volunteer work and eventually I want to contribute to build a system to support such people. That's what I want to do in the future.