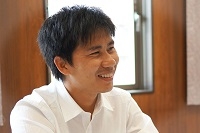 Heng Boret (Cambodia)
○2013.4~2013.9 Research Student
○2013.10~ Master's Program, Graduate School for International Development and Cooperation
1. Why did you choose Hiroshima University?
Japan had always fascinated me so I decided to major in Japanese language when I was an undergraduate. After hearing about the education program at Hiroshima University at an information orientation, I became interested in the university's graduate program. At IDEC (Graduate School for International Development and Cooperation), classes in Japanese and English are available. Having learning opportunities in both languages is one of the university's appealing characteristics for international students.
2. What is your area of research?
I am researching the issue of school dropout in Cambodia's secondary education system. Education is not compulsory so education for children from elementary to middle school is called secondary education. One problem occurring in Cambodia's education system is the school dropout rate. According to data collected for one year, the percentage of children receiving an education until 6th grade is approximately 60% while the dropout rate is approximately 40%. In addition, schools and teachers are lacking and children are expected to work in the agricultural industry rather than gaining an education. While this issue has many complexities, by conducting surveys and analysis, I want utilize my research to help lower the high dropout rate in my country.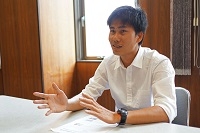 3. What is the atmosphere like in your research office?
I have 10 friends from different countries like China, Peru, Cambodia, and Japan. Thanks to them, I can experience many other cultures firsthand. This multicultural environment allows me to learn about the education systems in their countries so my understanding even outside my research theme has increased considerably.
I also have a senpai (student in the same faculty who is a year ahead) whose research resembles mine so I often receive advice from him. Since I am able to devote myself to my academic interests, Hiroshima University has certainly provided a wonderful environment for me.
4. Please tell us about what you would like to do in the future. What kind of work would you like to do?
I am still figuring out my future right now, but I have two possibilities. The first is to become a university professor because I would like to share with the next generation the knowledge and research "know-hows" that I gained here in Hiroshima. The other is to work as a support and service coordinator for a non-profit organization. If this becomes a possibility someday, I would still like to teach at a university.