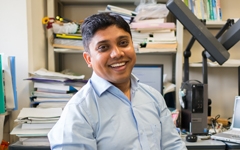 Azad Uddin (Bangladesh)
○2013.10~ Master's Program, Graduate School for International Development and Coorperation
1. Why did you choose Hiroshima University?
I chose Japan as the destination for my graduate studies to have the opportunity to experience unique and innovative experiences and culture as well as undertake cutting edge research in a world class institute.
Japan is one of the leading countries in the world in the economic development, technological advancement, and social norms and safety, so on. Japanese hard working people have rebuilt a totally destroyed country to an economic and technologically superpower in the world and Japan currently has the world's third largest economy after the USA and China. Specially, I believe the "Hiroshima" city teaches the world how to rebuild and change everything positively. These know how is very important for the developing country like Bangladesh. Also the graduate school at Hiroshima University is one of the best research institute with about 90% international students and very experienced faculty members.
2. What is your area of research?
My research interest is on the inequality issues of my country. I am now analyzing this problem by using recently developed econometric techniques.
Since after independence in 1971, Bangladesh government have aimed at achieving "equitable economic growth" through many development initiatives and programs in both rural and urban areas. Consequently Bangladesh has been able to raise its GDP growth rate by at least one percent for each of the past four decades and experienced high economic growth during 1995-96 to 2010. Although the per capita income has increased, income inequality has not changed much over this period for Bangladesh. Interestingly, the inequality is more serious in the upper level than the lower end between rural and urban areas. So, understanding the changing pattern of inequality and its underlying forces has, therefore, become major concerns among Asian countries.
In Bangladesh I work for the Central Bank of Bangladesh as a Deputy Director. Right now I am on study leave for two years. After finishing my degree here, I will be going back to work for the Central Bank. Before I return to Bangladesh, I hope I can create policy recommendations to mitigate this inequality occurring in my country and contribute to the development of my country economy.
3. What is the atmosphere like in your research room?
I am very pleased to have a nice and resourceful (analytical software, recently published books, and access to many international journals) research room in the university. There are eight international students and one Japanese student in my research room. The international students are from Sri Lanka, Myanmar, Laos, China, Afghanistan, and Bangladesh. In my lab, everyone works together and help each other whenever anyone faces any problem. In my research room I can not only research and study but also can become familiar with totally international environment and different countries' cultures and norms. My supervisor and other professors are very friendly and helpful.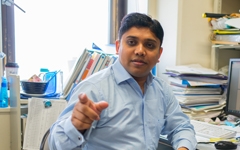 4. What was your first impression of Japan?
I was not worried about IDEC because it is an International graduate school and instruction is in English, but I was worried about surviving outside of school. But after arriving, I soon realized that people in Japan are so helpful and polite. Despite being inherently shy, Japanese people generally have a very positive view of foreigners and so will often go out of their way to assist if they notice a foreigner in distress. Whenever I ask a Japanese person for help, even if they were not good at English, they try their level best to help me and understand, using as much time as needed. Also, I have practically discovered that Japan is one of the safest and the most punctual countries in the world.
In the beginning, I have faced a little bit food problems for religious reasons. After while I have found that Japan is also a Muslim friendly country and we can find all kinds of 'Halal' foods nearby.
5. How is life in Hiroshima University?
On a typical day, I try to come to the research room in the morning around 9-10am and focus on my research work until around 7-8pm.
I have made countless wonderful memories. I participated in IDEC open day, a day to introduce our faculty by celebrating different cultures; and bus tours from the university and international organizations to share the cultures and traditions. Outside of university, I also participated in many international programs such as a global education program in Hiroshima city to interact with high school students. I was also a guest speaker on the Higashi Hiroshima FM radio, KAMO cable TV and Hiroshima TV. I have also participated in volunteer program in the land slide disaster area in Hiroshima which is appeared on a local newspaper.
As for my Japanese experiences, I loved playing with snow, making snowmen, and skiing during the winter because in Bangladesh we don't have snow. During the spring season, I enjoyed the cherry blossom and BBQ party last year. I have tried to explore different kinds of Japanese foods like sushi, udon, soba, okonomiyaki and many more.
When I go back to Bangladesh, I will take back numerous good experiences and knowledge. Hope, this experiences will help me in my personal development as well as to the development of my country.
Mr. Uddin received the 2014 Hiroshima University Student Scholarship, which is an award program in Hiroshima University to recognize excellent students in their academic activities.