08 Industry-Academia-Government-Finance Cooperation Projects
COI Center of KANSEI Innovation Nurturing Mental Wealth
The Center of KANSEI Innovation develops Brain-Emotion Interfaces (BEI) that connect people to people and people to things with KANSEI (emotions), by employing leading-edge neuroscience, optical technology, and information and communication technology. Based on BEI, the Center promotes the development of products or services that increase the emotional wealth of users over time in various fields such as food, clothing and housing, mobility, electric appliances, education, and medical care. With these products and services, the goal of this initiative is to generate innovative connections between people and people, or people and things, and thereby create a happy society where things and emotions are well-harmonized.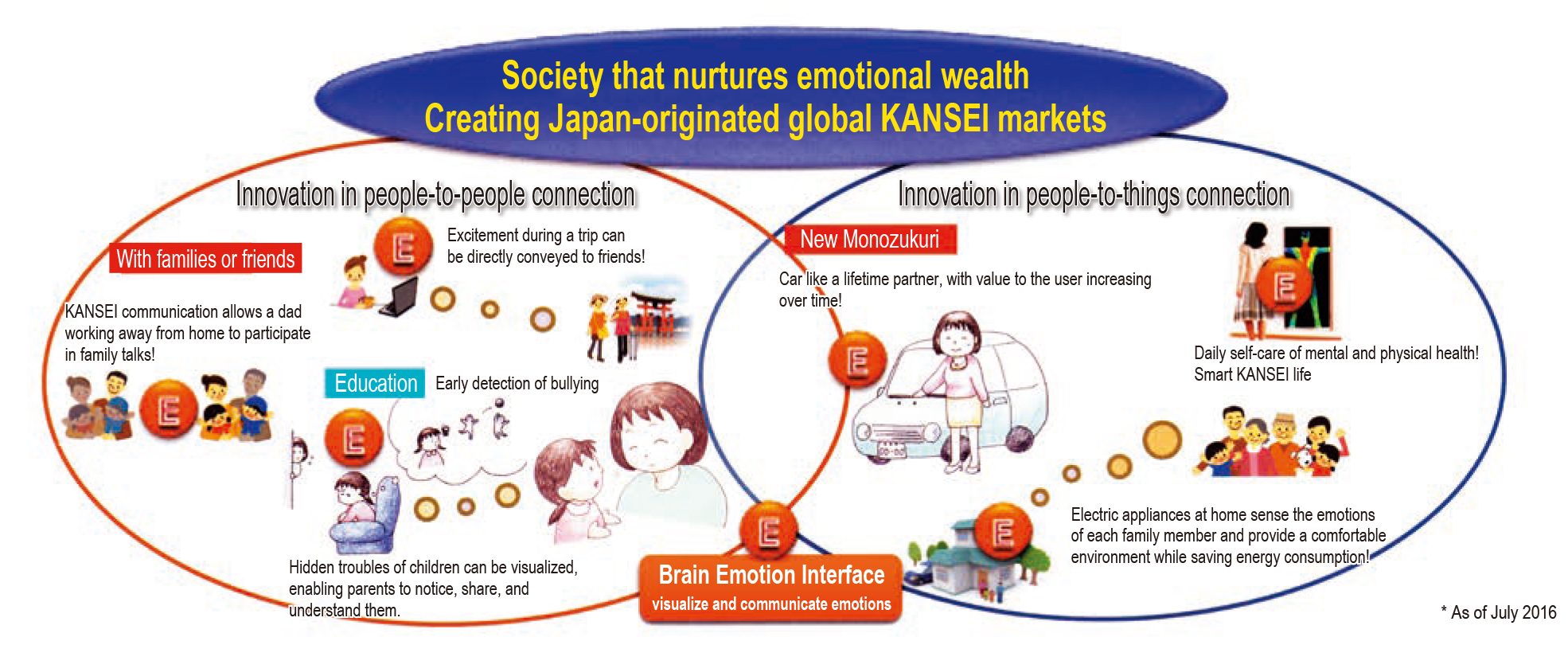 Implementation System
Project Leader: Takahide Nozawa (Mazda Motor Corporation) Research Leader: Shigeto Yamawaki (Hiroshima University)
[Core institution]
Hiroshima University
[Satellite institutions]
Innovative Photonics Evolution Research Center, National Institute for Physiological Sciences COI-S
[Participating organizations]
Hiroshima City University, National Institute of Advanced Industrial Science and Technology, Okinawa Institute of Science and Technology Gradate University, Mazda Motor Corporation, Mitsubishi Rayon Co., Ltd., Andersen Institute of Bread & Life, Kobelco Construction Machinery Co., Ltd., Hiroshima Gas Co., Ltd., TOTO Ltd., Sapporo Holdings Ltd., Toppan Printing Co., Ltd., Hiroshima Prefecture
Hiroshima Innovation Center for Biomedical Engineering and Advanced Medicine
Hiroshima Innovation Center for Biomedical Engineering and Advanced Medicine was established to promote industry-academia-government collaborative research projects, taking advantage of unique local characteristics and utilizing the research results for the revitalization of local industries. After being adopted by the Japan Science and Technology Agency as a Project for Regional Industry-Academia-Government Collaborative Research Center Development in 2010, the Center launched support programs during the period from AY 2011 to AY 2015 while endeavoring to achieve the strategic goals. As a result, the Center earned high evaluation for having established a sustainable system for creating innovations. (General evaluation S)
Starting from AY 2016, the Center will work more actively in communicating information both inside and outside the area, making its research facilities and equipment available to local businesses and universities, and thereby steadily implementing its local innovation strategies through its research and development activities.