Innovation Training Program for Young Technical Experts Working for Local Companies (Sponsored by the Phoenix Cooperative Consortium)
■ Date & Time:
Second Monday of each month (if this day falls on a national holiday, then the next day)
17:00–19:00
(*1.5 hour lecture + Q & A session + technology exchange, etc.)
■ Venue: Higashi-Hiroshima Campus, Hiroshima University
■ Field: Chemistry, materials, machinery, food, processing, management of technology, etc.
■ Lecturer: Hiroshima University faculty members and experts from within and outside the University
■ Eligible Applicants: Young and mid-level technical experts from Hiroshima University Phoenix Cooperative Consortium member companies
■ Major Features:
・Allows busy participants to take part in a flexible manner.
・Provides training useful for manufacturing in a systematic and continuous manner.
・Enables participants to build up a broad network of connections.
・ Features a wide variety of topics ranging from base technology, to the latest technology trends, and practical technology implementation.
・ Open to Phoenix Cooperative Council member companies free of charge; a completion certificate is issued.
[Where to Apply]
Secretariat of the Phoenix Cooperative Consortium
TEL: +81-82-424-4302 FAX: +81-82-424-6189
E-mail: techrd*hiroshima-u.ac.jp (Please change * into @)
MEXT "COC (Center of Community) Program"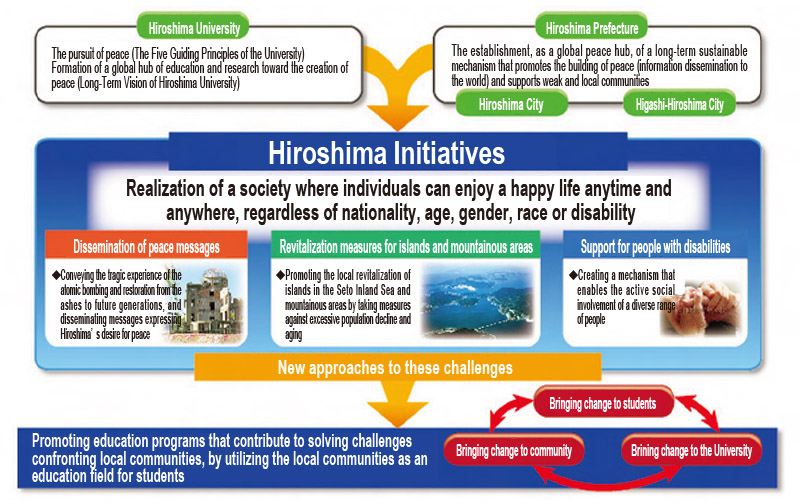 [Contact]
Hiroshima University Hiroshima Initiatives Promotion Center
TEL: +81-82-424-3745
FAX: +81-82-424-6189
E-mail: sangaku-renkei*office.hiroshima-u.ac.jp (Please change * into @)
Human Resource Development Center of the Hiroshima Innovation Center for Biomedical Engineering and Advanced Medicine (AY2011 – AY2015)
As part of the local innovation strategy program (P. 7), we implemented various projects to develop human resources in the fields of biomedical engineering and advanced medicine. Completion certificates were awarded to participants in each course.
Medical ergonomics technicians (Participants: 60)
Professionals who possess sufficient knowledge of ergonomics to allow them to engage in the development of automobile parts and components, which play an important role in the creation of vehicles that realize safe and comfortable driving, and the development medical and welfare equipment
Medical informatics technicians (Participants: 16)
Professionals who have sufficient knowledge of information science, medicine and engineering to allow them to acquire and analyze biological and life information from various angles and apply the specialized knowledge to creating a medical information system, developing new medical equipment, diagnosing and treating intractable diseases, and promoting preventive medicine
Cell culture expert (Participants: 38)
Professionals equipped with the ability to appropriately use cell culture solutions, equipment and facilities and employ cell culture techniques to regulate cells used for research into safe and secure regenerative medicine and cell remedies as well as for clinical application
Food clinical testing professionals (Participants:34)
Professionals capable of carrying out human clinical trials safely to test the effectiveness of newly developed food, including functional food, and conducting appropriate evaluation
Innovative monozukuri technicians (Participants: 44)
Professionals who have the expertise to understand and effectively use advanced high-precision/high-function fabricating equipment and information equipment/systems, and who recognize the importance of handing down skills and know-how from generation to generation in small- and medium-sized manufacturing companies
[Contact]
Hiroshima Innovation Center for Biomedical Engineering and Advanced Medicine
TEL: +81-82-257-1609 FAX: +81-82-257-1623
E-mail: kyoten*hiroshima-u.ac.jp (Please change * into @)
Enhancing Development of Global Entrepreneur Program (EDGE Program)
Hiroshima University launched the Hiroshima Entrepreneurship Program in AY2014, which was selected for the EDGE Program run by the Japanese Ministry of Education, Culture, Sports, Science and Technology. To
revitalize the creation of innovations on a national and local community level, we seek to promote the start-up of venture businesses based on research results, develop innovative talents equipped with the ability to promote the creation of new businesses by existing enterprises, and develop an innovation ecosystem that enables such innovators to fulfill their potential.
This one-year program, designed for students, young researchers and working people both from the humanities and science, consists of a general course and a seeds course. At the end of the program, a Phoenix Entrepreneur Competition is held, and the winners are provided with the opportunity to be hired as a "Phoenix Entrepreneur" for one year and to receive continuous support.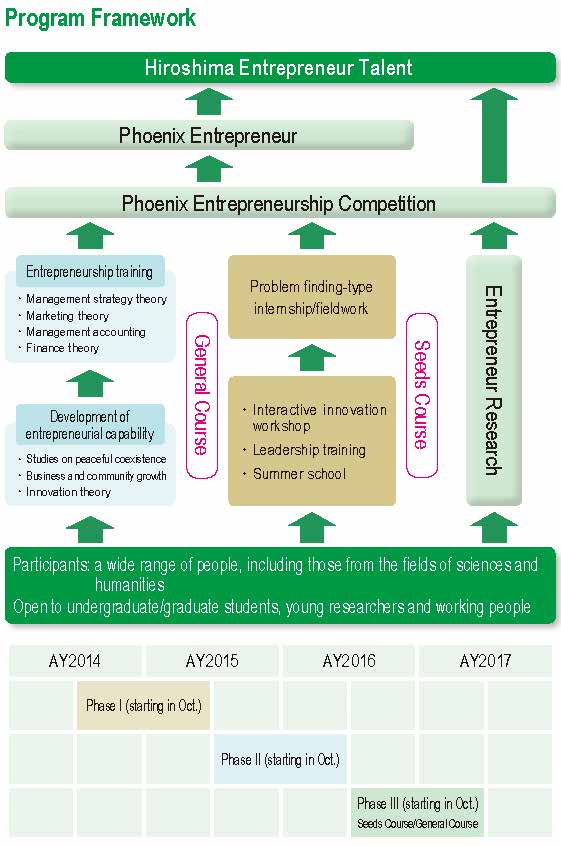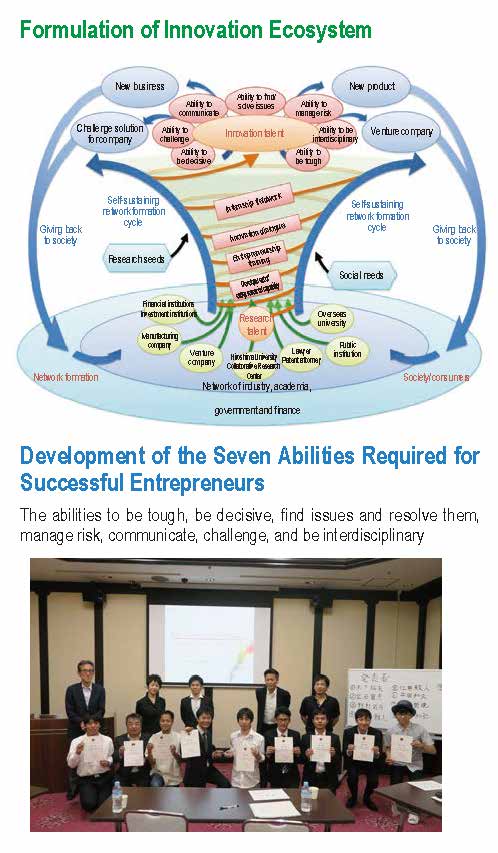 Higashi-Hiroshima Startup School
The Higashi-Hiroshima Startup School is held every year under the sponsorship of Higashi-Hiroshima City, the Higashi-Hiroshima Chamber of Commerce and Industry, and Hiroshima University Center for Collaborative Research and Community Cooperation. This comprehensive and intensive course, designed for students and working people who aspire to start up businesses as well as for fledgling venture business owners, features the provision of systematic knowledge necessary to start up a business (including company formation, fund procurement, and business planning) and an introduction to practical management theory by business owners and entrepreneurs who are active in the real world and business startup cases.
In AY2015, a total of 11 lectures were delivered in five days between June 20 and July 11.